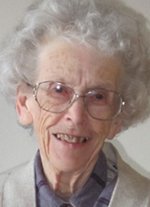 Obituary of Norine D. Peterka
Norine D. Peterka, of Yankton, died Friday, March 8, 2013 at Avera Sister James Care Center, Yankton, SD. Mass of Christian Burial will be 10:30 AM, Monday, March 11, 2013 at St. Benedict Catholic Church, Yankton, SD with Rev. Ken Lulf officiating. Burial will be in the Sacred Heart Cemetery. Visitations will be from 4:00-6:00 PM, Sunday, March 10, 2013 at the Opsahl-Kostel Funeral Home and Crematory, Yankton. Visitations will resume one hour prior to the service at the church.
Norine was born October 22, 1921 in Yankton, SD to Val & Mona (Hoyt) Rheiner. She grew up in the Yankton and Lake Andes area. She graduated from Yankton High School and for the next five years she worked for the Yankton School District. On September 27, 1944, she was united in marriage to George Peterka at Sacred Heart Catholic Church in Yankton. For eighteen years she worked for Edward Jones Investment in Yankton. She was a member of Royal Neighbors, Sacred Heart Hospital Auxiliary, and St. Benedict Catholic Church.
She is survived by her son Dennis (Diane) Peterka of Waverly, IA; daughters Teresa (Peterka) Engel of Sioux Falls, SD and Sharon Peterka of Yankton, SD; brother Robert Rheiner of Geneva, NE; four grandchildren and four great-grandchildren.