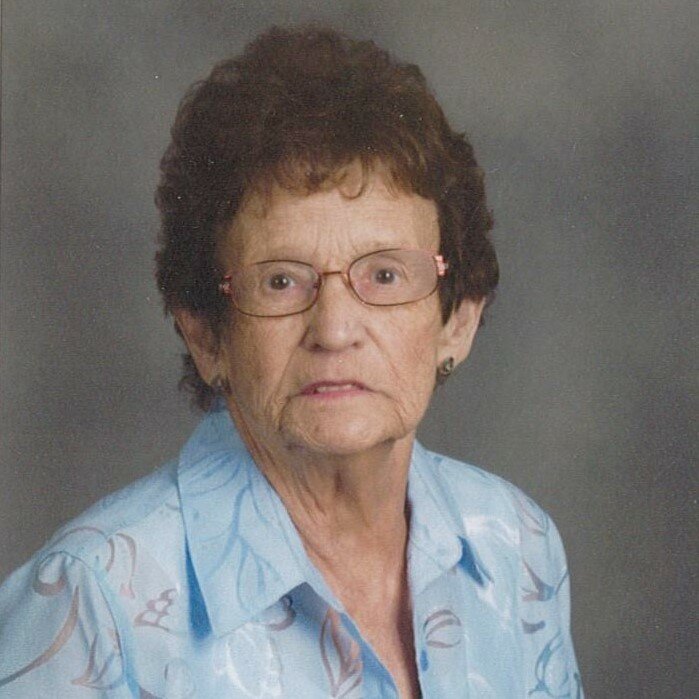 Obituary of Marcelene Schmitt
Please share a memory of Marcelene to include in a keepsake book for family and friends.
Marcelene Schmitt, age 83, of St. Helena, NE passed away Thursday, August 10, 2023, at her home. Mass of Christian Burial will be 10:00 AM, Wednesday August 16, 2023 at St. Boniface Catholic Church, Menominee, NE with Rev. James Keiter officiating. Burial will be in St. Boniface Catholic Cemetery, Menominee, NE. Visitations will be 5 to 7 PM, Tuesday, August 15, 2023 at St. Boniface Catholic Church, Menominee, NE with a Wake and Rosary service at 7:00 PM Tuesday evening. Visitations will resume one hour prior to the service at the church. Online condolences may be sent at: www.opsahl-kostelfuneralhome.com. Livestreaming of Marcelene's services can be found at https://my.gather.app/remember/marcelene-schmitt.
Marcy was born on the Schieffer family farm in Constance, NE to Fred and Olivia (Wiebelhaus) Schieffer. Her parents married in 1929 and were blessed with 9 children. The family was raised during the "dirty 30's." No matter their age, everyone pitched in and helped on the farm to the best of their ability.
When Marcy was a small child, she really liked to pick corn because it was fun. During her pre-teen years, she helped stack hay and drive the horses. On Saturday nights, Marcy's job was to put "tin curlers" in her sisters' hair for church. Marcy helped with midwife duties for neighbors and friends in the Constance community until she was 20.
Marcy was not allowed to go to high school because her brother Gervase died in a car accident. She stayed home and farmed. During these tough years, there wasn't anything that Marcy couldn't do. This tragic death changed their lives forever. This was a devastating loss for the whole family, especially their mother. Her Aunt Julia and Marcy helped them survive during this sad time.
Marcy started sewing in her teen years. She used flour sacks to make dresses for herself and her siblings. She became a great seamstress and quilter.
Marcy loved working with people. Most of her jobs were in the service industry. Marcy worked at HeadStart with pre-school kids, earning a whopping $1.67/hr. She worked at Joe's Steak House (aka Our Place Too). This was the funnest job she ever had! Marcy's last 2 jobs were at Cimpl's Meat Packing Company and HSC. She liked to work with the prisoners, and they felt the same. She retired at age 67 but couldn't sit still. She worked as a caregiver for elderly and disabled people. She loved to spend time with her family and her "lady friends." She looked forward to their lunches, playing cards, and going to plays and concerts.
Emery Schmitt asked Marcy to marry him on New Year's Eve, 1959. They were wed on May 3, 1960. Marcy was blessed with 9 children: Fritzie, Lori, Jackie, Kirt, Terrance, Gerine, Troy, Balthasar, and Emery Jr. Their nephew, Rodney, lived with the family for a couple years.
Marcy is survived by her children Fritzie (Jeff) Barkl, Yankton, SD; Lori (Roger) Bartlett, Joplin, MO; Jackie (Bill) Pike, Fairplay, CO; Kirt (Lisa) Schmitt, Tea, SD; Gerine (Dale) Uhrich, Joplin, MO; Troy (Marla) Schmitt, St. Helena, NE; and Emery (Cathy) Schmitt, Jr., Tea, SD.
She had 11 grandchildren and 5 step grandchildren: Chris, Nick & Jon Barkl; Bobbi Jo Conlan and Erik Bartlett; Cayley and Ryland Schmitt; Olivia Uhrich; Kari Schmitt, Brittany Spencer, Nik Davis; and Sam and Sophia Schmitt, Nick, Nathan, and Noah Bowman.
She had 10 great grandchildren and 7 step grandchildren: Elizabeth Barkl; Karson and Charlee Whitaker; Beckett, Hayden, Emmett, and Jack Bartlett; Emery and Noah Davis; Jathan, Kassidy, and Jameson Schmitt; Hayley, Jade, Jace, Oliver and Everly Bowman. She has one great great grandchild: Kingston Johnson. She has 3 great grandchildren on the way. Siblings Teresa Hanzlik (Don), Arlis Hunhoff (Dave), Marnie Schieffer (Rose).
She was preceded in death by her parents, husband Emery, sons Terrance and Balthasar, son in law Dale Uhrich, siblings Delwyn & Gervase Schieffer, Denelda Nelson, and Darnell Maly.
Marcy struggled in her later years with COPD. She loved her caregiver and friend Cindy Repenning. She lit up with a smile when her Hospice caregivers came to visit. She peacefully left her earthly home to live with the Lord and died at home with a rosary in her hands.
To send flowers to the family or plant a tree in memory of Marcelene Schmitt, please visit Tribute Store
Share Your Memory of
Marcelene