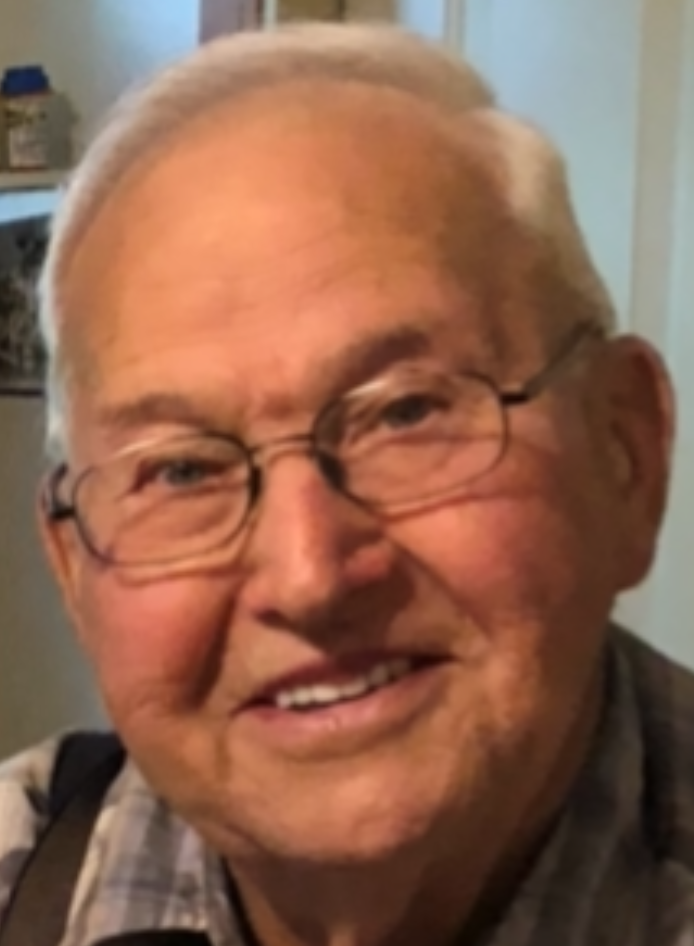 Obituary of Keith J. Neuhalfen
Please share a memory of Keith to include in a keepsake book for family and friends.
Keith Jay Neuhalfen, 89, of St. Helena, NE was surrounded by his loving family when he passed away from cancer, on April 5, 2022.
Mass of Christian Burial will be 10:30 AM, Saturday, April 9, 2022, at Immaculate Conception/Holy Family Catholic Church, St. Helena, NE with Rev. An Duy Phan officiating. Burial will be in the parish cemetery with Military Graveside Rites by the Wynot American Legion Post #31. Visitations will be 5 to 7 PM, Friday, April 8, 2022, at Immaculate Conception/Holy Family Catholic Church, St. Helena, NE with a Wake service at 7:00 PM. Visitations will resume one hour prior to the service at the church. The Opsahl-Kostel Funeral Home & Onsite Crematory, Yankton, SD is assisting the family with the service details. Online condolences may be sent at: www.opsahl-kostelfuneralhome.com. Live streaming of Keith's service can be found at: https://www.facebook.com/opsahlkostel/live.
Keith was born December 31, 1932, in Hartington, NE to Emil and Lola (Peck) Neuhalfen. He grew up in Minnesota and Sioux City, IA returning to Hartington, NE after the death of his father. He graduated from Hartington Public High School in 1951. He was drafted into the United States Army in 1953, trained at Fort Chaffee in Arkansas. He served in Germany during the Korean War where he was awarded the National Defense Service Medal/Army Occupation Medal (Germany). He returned home in 1955, married his high school sweetheart, Louise Schulte, from St. Helena, NE August 10, 1955. He and "his bride" lived in Hartington until 1960 and then moved to St. Helena. Keith and "his bride" moved to Walnut Village Assisted Living in Yankton, SD about 6 months ago. The Neuhalfen family really appreciates the wonderful care of the Walnut Village staff!
He worked for Hoesing Brothers Construction, Hartington NE. Here is where he learned the brick laying trade and joined the union. Area buildings he worked on are Avera Sacred Heart Hospital, Sacred Heart Church, Yankton Police Station, Laurel High School, and the Yankton Senior Center. He also worked at the Human Services Center and Neu Pond and Landscaping. He served on Holy Family Parish Council, St. Helena Town Board, and was the recording secretary for Brick Layers Union Local #2. He was an Extraordinary Minister of the Eucharist with Holy Family Catholic Parish and held a weekly hour of adoration with Louise since its beginning.
Keith was an avid Pittsburg Steelers and Nebraska Cornhuskers fan. He loved fishing, hunting and anything in nature. He had a beautiful fishpond in his back yard and had made numerous blue bird houses throughout Cedar County in his wood working shop. He was proud of the St. Helena community and was very involved in community events. Family was extremely important to him. He cherished every family gathering where he would pass out the best bear hugs. His wonderful sense of humor always made gatherings fun. In his last days, he proclaimed, "this is the perfect family for me."
Keith is survived by his wife of 66 years, Louise Neuhalfen, of Yankton, SD. Children: Kirk (Karen) Neuhalfen of Batavia, IL. Kevin (Becky) Neuhalfen of Yankton, SD. Mark (Cindy) Neuhalfen of Fordyce, NE. Tami (Mick) Wiepen of St. Helena, NE. Todd (Lori) Neuhalfen of Norfolk, NE. Julie Boecker of Hartington, NE. Neal (Jody) Neuhalfen of Crofton, NE. Amy (John) Neu, Yankton, SD; 24 grandchildren, and 28 great grandchildren, and many nieces and nephews; brother Dan (Becky) Marshall; sister Cindy (Rob) Goers; in laws Tudy (Don) Thompson, Marge Schulte, and Sharon Schulte.
He was proceeded in death by his parents; son, Patrick Neuhalfen, his brother, Paul and Lavonne Neuhalfen, Father and Mother in law, Frank and Frances Schulte, in laws; Roman and Ester Schulte, Ralph Schulte, Cliff and Jeanette Schulte, Sally and Laddie Svatos, Gerald and MaryAnn Schulte, Donald Schulte, Harry and Dodie Schulte.
To send flowers to the family or plant a tree in memory of Keith Neuhalfen, please visit Tribute Store