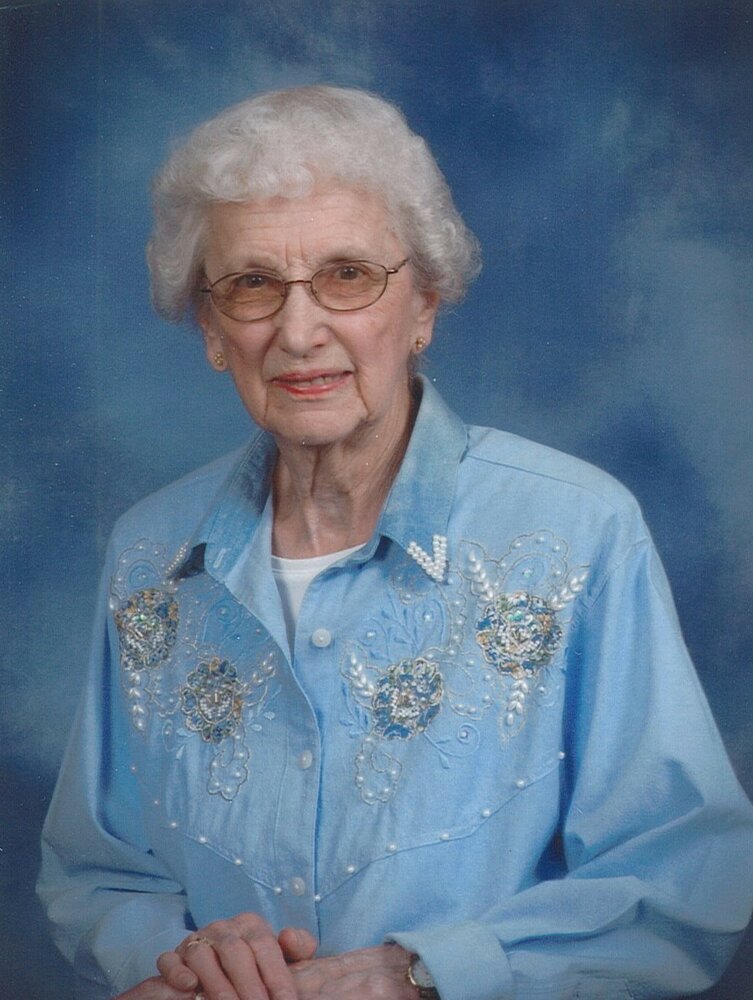 Obituary of Gladys S. Souhrada
Please share a memory of Gladys to include in a keepsake book for family and friends.
Gladys S. Souhrada, age 93 of Yankton, SD passed away Saturday, February 5, 2022 at Avera Sister James Care Center in Yankton. Funeral services will be 2:00 p.m. Thursday, February 10, 2022 at the Tyndall Presbyterian Church in Tyndall, SD with Pastor Lorney VanGerpen officiating. Burial will follow in the Tyndall Presbyterian Cemetery, rural Tyndall. Vistation will be 5 to 7:00 p.m. on Wednesday, February 9, 2022 at Opsahl-Kostel Funeral Home and Crematory in Yankton with a prayer service at 7:00 p.m. There will also be visitation for one hour prior to service time at the church on Thursday. Arrangements are under the direction of Opsahl-Kostel Funeral Home and Crematory in Yankton. Online condolences may be made at www.opsahl-kostelfuneralhome.com.
Gladys Davidene Sutera was born July 8, 1928 to Joseph and Marie (Vavruska) Sutera at their rural farm home west of Tabor, SD and was baptized at the Bohemian Presbyterian Church. She attended Vlasak School District 27 and graduated from Tyndal High School in 1946.
Gladys was active in 4-H as a member of the Jolly Homemakers Club. She earned a trip and two weeks of leadership training at Camp Miniwanca near Shelby, Michigan provided by Purina Feeds. She also received an expense paid trip to 4-H Club Congress in Chicago for one week for being the top demonstrator in South Dakota with her sister Arlene "Making "em the Czech Way" meaning kolaches and rohlicky at the State Fair. She was awarded a scholarship and attended South Dakota State College at Brookings and then continued her education at Southern State College at Springfield. Gladys began her teaching career at Wilson School near Tabor in the fall of 1947 and then taught grades 1 through 8 at Tabor Public School from 1948 to 1951. At Platte, SD she taught grades 1 and 2 from 1951 to 1954.
On October 28, 1954 Gladys married Alfred Souhrada at Tyndall Presbyterian church. They met through their involvement in 4-H activities. They lived in Rio Linda, California near Sacramento for several months while Alfred completed his U. S. Air Force service commitment at McClellan Air Force Base. The young couple returned to the Tabor area after his military discharge and began farming southwest of town. To supplement their income, Gladys taught at Hutterische School from 1955 to 1959.
Daughter Renae Marie was born in 1960 and Gladys became a stay-at-home Mom until Renae started school. She then taught at McCrea and Petrik schools from 1966 to 1971, and during those years attended summer school sessions and night classes to complete the requirements for her Bachelor of Science Degree in Elementary Education, awarded in 1971. In the fall of 1971 she began to teach at Bon Homme School District in Tabor in grades 3 and 4 until her retirement in 1988. At that time she became a lifetime member of the South Dakota Education Association and the National Education Association.
In 1996 Alfred and Gladys moved to Yankton to be close to their family and to enjoy watching them at their activities.
Gladys is survived by her daughter Renae Bouza of Yankton; granddaughter Holly (Kyle) Quinowski of Vermillion; grandson Michael (Ashley) Bouza of Tabor; great-grandchildren Parker Bouza and Aria Quinowski of Vermillion; sister-in-law Doreen Mikolash of Tyndall; and five nieces and nephews.
Gladys was preceded in death by her husband, Alfred; her parents, Joseph and Marie Sutera; mother and father-in-law, Edward and Mary Souhrada; brother, Allen Sutera; sisters, Mildred Valach and Arlene Sutera; brothers-in-law, Bernard Mikolash and John Valach; sister-in-law, Evelyn Sutera; son-in-law, Daniel Bouza.
To send flowers to the family or plant a tree in memory of Gladys Souhrada, please visit Tribute Store