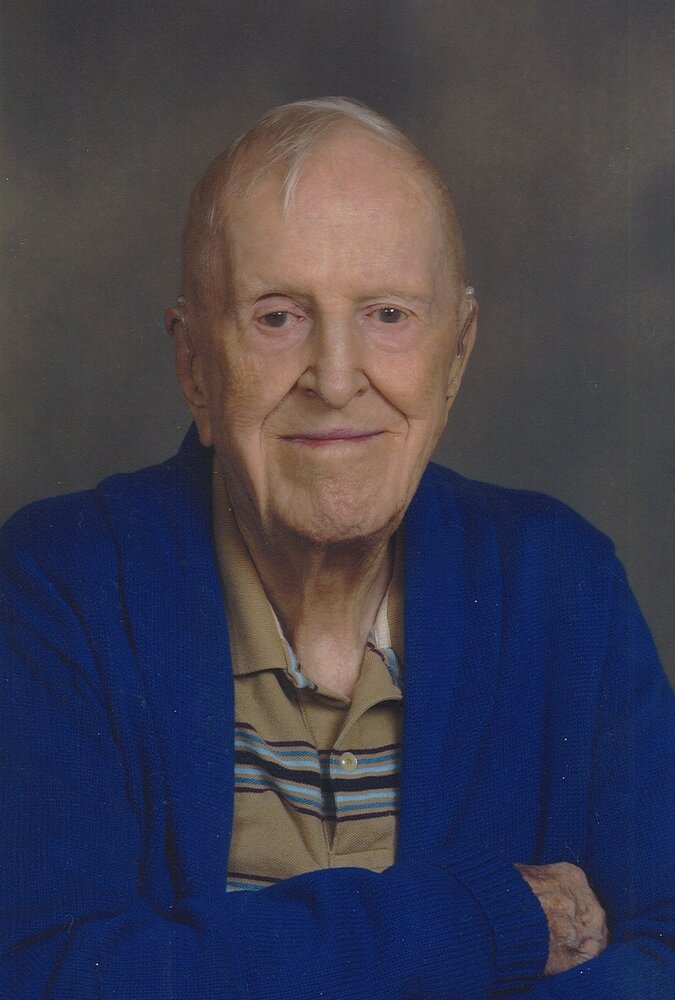 Obituary of Tom Milroy
Please share a memory of Tom to include in a keepsake book for family and friends.
MILROY THOMAS
Thomas 'Tom' Milroy, age 102 of Yankton, SD died peacefully Saturday, January 22, 2022 at Walnut Village, Yankton, SD. Private family funeral services will be held 2:00 pm, Wednesday, January 26, 2022 at Trinity Lutheran Church, Yankton, SD with Rev. Jeff Otterman officiating. A Celebration of Life is planned for June 18, 2022. Burial will be in the Yankton Cemetery, Yankton, SD. Those wishing to attend Tom's service online can find it at: https://www.facebook.com/opsahlkostel/live. Online condolences may be sent at: www.opsahl-kostelfuneralhome.com.
Thomas was born June 20, 1919, to John and Marjorie (Taylor) Milroy in Medicine Hat, Alberta. In 1920 they moved to Indian Head, Saskatchewan. He enjoyed a childhood filled with winter sports such as hockey and curling and summers at their cabin at Lake Katepwa. He graduated from high school in 1937 and worked at the Royal Bank of Canada until entering the University of Saskatchewan, Saskatoon in fall of 1939. While in line to register, he was still undecided whether to apply for a major in Pre-med or Chemical Engineering. He decided on Pre-med and was always grateful for his decision. While in college he served in the 45th Field Artillery Reserve Regiment of the Canadian Army. The pre-med program in Saskatoon was only 2 years so he applied and was accepted into the accelerated medical training program at the University of Manitoba, Winnipeg and began medical school in 1941. While in medical school he enlisted in the Canadian Army, but the medical students were told that their duty was to stay in school until graduation as many physicians would be needed if WWII continued. At the end of his training, he was stationed at Deer Lodge Veterans Hospital, which was receiving any of the severely wounded and ill casualties from Europe and Asia. This included diagnosing and treating many rare tropical diseases in the surviving members of the Grenadiers who had spent nearly four months in Japanese POW camps. He graduated with a M.D. degree in October 23, 1945. In November 1945 he was stationed at Little Mountain Camp in Vancouver, B.C., at Camp Borden, Ontario, and was later stationed at Camp Dundurn, Regina, Sask. and promoted to Captain. He was discharged in August 1946.
He was then ready to continue his medical training and was accepted for additional training in Obstetrics and Gynecology at the Indiana Medical Center in Indianapolis, Indiana. This was a busy time as there was a severe epidemic of poliomyelitis, and many patients were sent to the medical center for diagnosis and treatment. He told stories of how two senior medical students would be sent in a city car to assist at home deliveries in some of the roughest parts of town, but he always found the patients and families welcoming and never had any trouble. He continued his medical training for a year at Riverside Hospital at Newport News, Virginia and then was accepted into a three-year Obstetrics and Gynecology residency training program at Ancker Hospital in St. Paul, Minnesota. While there he met and married his first wife Dorothy Holmberg September 16, 1950. During their marriage they had two children Mary and Vivian and adopted four children Paul, Jim, Cathy, and Delonna. Following his residency, they moved to Winnipeg, Manitoba in 1951 and lived there for 5 years. In 1956 they moved to Virginia, Minnesota and in 1958 moved to Des Moines, Iowa. In 1960 they moved to White Bear Lake, Minnesota. He established a private practice but in 1964 left private practice and took a position with the Student Health Service at the University of Minnesota. With a growing interest in public health, he entered the Master's program at the University of Michigan, Ann Arbor and graduated with a MPH in 1972. He returned briefly to Fridley, Minnesota before accepting the position as Maternal and Child Director at the Aberdeen Area Indian Health Service and worked there until retirement in 1981. He married Sally Jean Beaulieu March 31, 1980 and after retirement moved to Shakopee, Minnesota. They had many wonderful trips together including England, Wales, and Scotland. In 1994 He moved to Yankton, South Dakota. While in Yankton he became active at The Center and made many friends including his square dance partner Sandy Slate Jensen Krisl. They married April 1, 1997. She was a loving companion, and they enjoyed many adventures together. He enjoyed competing at the Senior Games in walking and swimming and won many medals. He competed and won Silver and Bronze medals in swimming at the National Senior Games in Minneapolis, Minnesota in 2015. His last years were spent at Walnut Village lovingly cared for by Sandy and the amazing Walnut Village staff. The entire family is deeply grateful for them. Tom was a life-long learner who loved reading, playing the piano, and was always ready to enjoy a new adventure. Even after macular degeneration destroyed his sight he continued as an avid reader and learner with the South Dakota Braille and Talking Book Library. He was a man of faith and a kind, devoted husband, father, grandfather, and great-grandfather.
Tom was preceded in death by his parents, his brother Jack, infant children Ann and Mark, step-son Kevin, and former wives Dorothy Holmberg and Sally Beaulieu.
He is survived by his wife Sandy, children Mary Milroy (Dan Johnson), Vivian Martin (Jeff), Paul Milroy, Jim Milroy (Cheryl), Cathy Donaldson (Gary), Delonna Milroy (Lara Neel), and stepchildren Lynn Clark (Randy), Leslie Jensen, Wayne Jensen (Julie), fifteen grandchildren and six great-grandchildren.
In lieu of flowers, the family requests memorials be directed to Trinity Lutheran Church, 403 Broadway, Yankton, SD 57078 or SD Braille and Talking Book Library, 800 Governors Drive, Pierre, SD 57501, or South Dakota Senior Games, 2908 Orchard Ave. Sioux Falls, SD 57103.
To send flowers to the family or plant a tree in memory of Tom Milroy, please visit Tribute Store