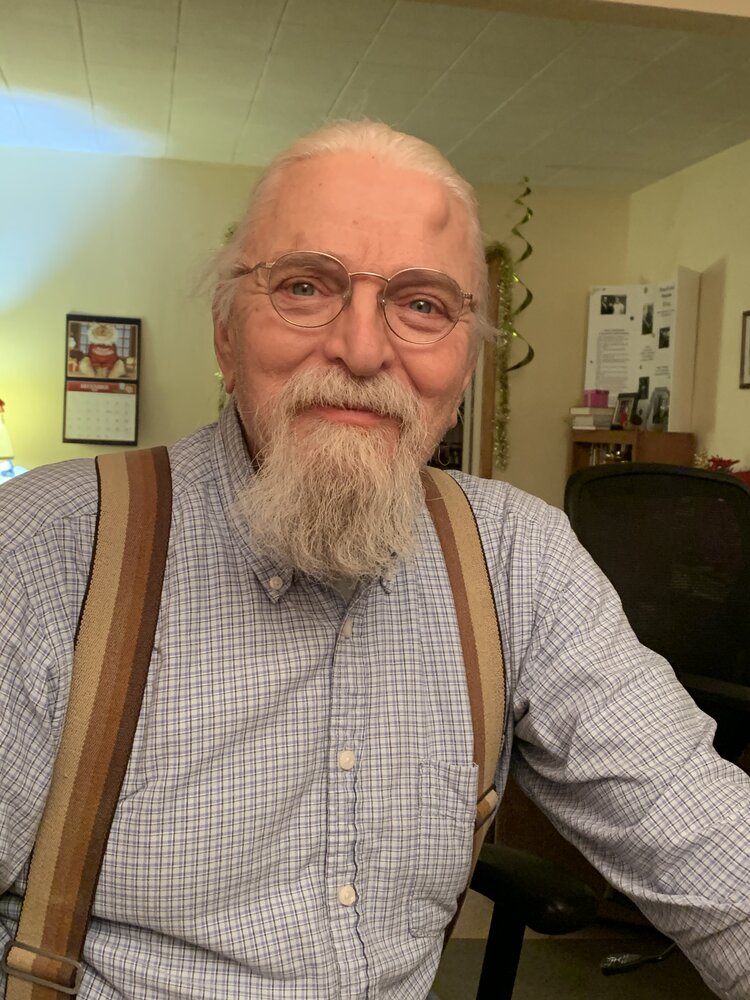 Obituary of Douglas Paul Sharples
Please share a memory of Douglas to include in a keepsake book for family and friends.
Douglas Paul Sharples, 76, of Wakonda, SD, passed away September 24, 2021, from complications resulting from brain cancer surgery and treatment.
Doug was born August 18, 1945, in Red Oak, Iowa, to Thomas A. and Ruth Ann (Turner) Sharples. He lived the first year of his life in Hawthorne, California, with his mother, older brother Thomas Duncan, his grandfather, and the extended Sharples clan while Doug's father, a naval officer, was serving in the Japanese Theatre of World War II. When his father returned from war in 1946, the family settled in Clinton, Iowa, on the banks of the Mississippi River where his father coached basketball and taught high school government. At their home there, Doug's father built the boys an awesome miniature playhouse that still stands today. Even though Doug was very young when he lived in Clinton, he had many memories of their home, playhouse, and the neighborhood where he wandered. In life, Doug had a sharp mind and a great memory for all the things he did and experienced.
In 1954, the family moved west across the state of Iowa to Atlantic, where his father began teaching at the high school there. In 1956, the family moved into a home his father constructed on a plot of farmland on the edge of nearby Griswold, his mother's hometown. There, Doug enjoyed the family's two dogs, Chippy and Cherry, playing in the creek that ran through their property and around the grain bins, and riding horses with brother Tom. Doug attended 6th grade in Griswold, then commuted to Atlantic with his schoolteacher father and older brother for his 7th through 11th grade years.
In the summer of 1962 after his junior year in high school, Doug attended the University of Iowa Drama Workshop. Upon his return, he skipped his senior year and instead enrolled at the family alma mater, Simpson College, in Indianola, Iowa. Doug majored in Speech and Theatre at Simpson College. It was there in the spring of 1964 that he met a young coed from California who would become the love of his life, Judi Wood, after casting her in a play he was directing. In the summer of 1964, Doug and Judi headed to the Black Hills where they were members of Warren M. Lee's Black Hills Playhouse Company during the summers of 1964 and 1965. Doug and Judi married on September 11, 1964.
After earning BA degrees from Simpson College, Doug and Judi enrolled in graduate school at the University of South Dakota, moving to Vermillion in September, 1965. There, Doug took filmmaking courses from Sanford Gray, studied painting under Oscar Howe, and earned an MA degree in dramatic art under Wayne Knutson.
Doug and Judi moved to Lincoln, Nebraska, in October, 1967, where Doug was employed by the University of Nebraska's Motion Picture Unit as cameraman-editor. Doug shot the "Big Red" football games in Lincoln and worked on a variety of instructional and training films until early 1969, when Doug and Judi left for Los Angeles.
In LA, Doug knocked on doors in the Hollywood film industry while Judi worked in the Watts section of Los Angeles as an Unemployment Insurance Determinations Officer for the State of California. By 1971, they had decided they didn't want to live in Los Angeles, and during the summer, they returned to the Vermillion area. They first drove into Wakonda while looking for a farmhouse to rent in August, 1971. They found one two miles outside of town and lived there for three years before buying the old Faithe Medical Clinic building in Wakonda in 1974. The sprawling building had plenty of room for the business Doug and a friend had founded three years earlier, Cottonwood Productions, and included an apartment on the back for his family, which was growing. The couple moved into the building just in time for the arrival of their daughter, Riva Jane, in May of 1974.
Doug and Judi ran Cottonwood Productions, a motion picture production company, for more than 30 years, the two of them handling nearly all aspects of the filmmaking business with the occasional help of friends and colleagues whom they hired for specific projects, including Nancy Carlsen, Cindy Kirkeby, Nancy Losacker, Steve Olson, Patty Bury, Krista Skolten, Andy McGrew, Bruce Preheim, Steve Marsden, Jerry and Norma Wilson, and many others. As the sole proprietors of the business, it was at times a seemingly impossible task for Doug and Judi to solicit, land, and make a film or project without a giant crew. Doug and Judi became very good at applying for grants and soliciting work, writing scripts, casting talent, building sets and scenes, filming and sound recording, editing (using what was considered then old-school technology from the 1950s), traveling to the lab to "transform" the film into a finished product, marketing it, and then showing it.
Doug's filmography includes many projects including the following: "Let the Waters Run Free," (1971), a film for the SD Department of Game, Fish and Parks; "A Summons to Greatness" (1972) for the South Dakota Bicentennial Commission; TV spots for the 1972 election campaigns of Pat McKeever in South Dakota and Berkley Bedell in Iowa; TV commercials for the S.D. Automobile Dealers Association (1973) that won four national awards; a television ad (1973) for the SD Department of Public Safety that starred the residents of Wakonda representing the 290 people who died annually on SD roadways; radio and television spots and a short biographical film for Senator George McGovern's 1974 re-election campaign; "Paha Sapa: The Story of Custer State Park," an interpretive film that won a top conservation award and a bronze medal at the New York International Film Festival in 1975 and played for tourists at Custer State Park for 30 years; "Oahe: A Question of Values" (1975), a film about the controversial Bureau of Reclamation Department plan to irrigate 190,000 acres in north central South Dakota that was featured at the SD State Fair and also thrust Doug & Judi into the political spotlight in 1976; a multi-screen slide show "What Is Corn Place?" (1977) that played for more than 20 years in Mitchell; "High Driving" (1978) for the SD Department of Public Safety about drunk driving, an award-winning film shown in driver's education classes and across the nation for many years; "Strangers and Guests: Stewarts of the Land" (1981), produced for the Heartland Project of the Catholic Church and featuring Hollywood star Ed Asner as narrator; "The Clean-up of Whitewood Creek" (1982), a film documenting the abatement of stream pollution in the Black Hills from Homestake Gold Mine and other sources that was narrated by "Mr. Wizard" Don Herbert; a sequel film "The Rebirth of Whitewood Creek" (1986), which documented the recovery of the creek; "South Dakota: A Meeting of Cultures" (1985) for the South Dakota Library Association to promote the state's upcoming centennial; "Ancient Survivors of the Missouri" (1989), a film about endangered fish for the US Fish and Wildlife Service and Montana State University; a video production, "Mahatma Gandhi: Twentieth Century Prophet" (1998), an edited and revamped version of the classic 1953 film; and "Go Moan for Man" (1999), a longtime personal project of Doug's. Additionally, there were many other TV spots, smaller projects, and contracts to capture footage for various entities throughout the years. Historic footage Doug shot has been included in more recent works by other filmmakers, including the 2018 film "Warrior Women."
Doug's works won many awards, but one very special honor he received was in 1987 when he was invited to represent the United States at the first international scientific film festival in Beijing, China. Doug was the only representative from the United States to attend. At the festival, he showed his film, "The Rebirth of Whitewood Creek" (which won the top award), and had to fill-in for the US Ambassador at several state functions.
Throughout his filmmaking career, Doug worked on three personal projects in between commercial contracts as time and money would allow. He began shooting footage in 1982 for a film about the beatnik poet Jack Kerouac whose work Doug had read and been inspired by as a teenager. In 1982, Doug and Judi attended and filmed the 10-day conference in Boulder, Colorado, led by Allen Ginsberg celebrating the 25th Anniversary of the publication of Kerouac's legendary 1957 book, "On the Road." After this, throughout the 1980s and 1990s, Doug traveled around the United States and world as he could to film important places and points of interest in the Kerouac story, from California and Washington to Massachusetts and Florida. One of Douglas's most amazing feats for the Kerouac film was climbing the very remote Desolation Peak in Washington state in 1989. Doug was dropped off by boat at the foot of the mountain, which he proceeded to climb, alone, carrying his camera, a 40-pound tripod, and a backpack with all the supplies needed for an overnight stay on the wild mountain where Kerouac had served as a fire lookout. Amazingly, Doug made it to the top and back intact and got some beautiful footage to include in his film.
Doug and Judi also traveled to other exotic places like Morocco and to points throughout Europe and Mexico to gather footage for the Kerouac film, which he finished in 1999. The couple then spent a year marketing the film and attending conferences and film festivals to showcase it, including a festival in Amsterdam where they were featured presenters. His Kerouac footage is highly sought after and some was recently featured in "The Source" by Hollywood's Chuck Workman.
Two other personal projects Doug worked on during his life included "Sacred Claim," a film about the Sioux Indians' claim to the Black Hills, which Doug began in 1979 and continued filming through 2018. The second project is "Omaha Blues" about now-deceased Omaha jazz museum Preston Love, which he began in the mid-1980s. These projects have not been completed, but Doug captured much historic and rare footage that is very valuable and in demand.
One of Doug's loves was the preservation of history and historic buildings. In 1997, Doug and Judi began their adventure in real estate when they purchased the historic Bagstad and Aeseth building on Main Street in Gayville, SD. In 2000, they also purchased the just-closed Volin School and gymnasium in nearby Volin. Douglas did not want to see the Volin School and gymnasium, with its wonderful architecture, destroyed. He hoped to turn the property into something useful and has maintained the buildings through the years.
In 2001, when the grocery store that had been located in their historic building in Gayville went out of business, leaving a large, empty space, Doug decided to pursue one of his other loves: live music. Music had always been one of his interests. In fact, in the 1970s in between working on film projects, he had started a short-lived music production company called Bijou Ridge Records, which had produced several recordings. Doug initially built the stage at Gayville Hall to film Omaha jazz musician Preston Love, but after the successful Love concert was held there in May, 2001, he saw the potential for the venue and Gayville Hall was born.
Gayville Hall quickly became a popular spot to hear live music in a wholesome environment. From 2001 until the present, Doug and Judi have run the hall, staging more than 400 shows through the years featuring many local and regional musicians. Doug managed all aspects of the business: booking talent, creating show concepts (like "The Hay Country Jamboree," a musical variety show), writing press releases, designing and hanging posters, greeting and seating people at the show, running the lights and sound during shows, and more. His legacy and his love of music lives on today on the Gayville Hall stage.
In his life, Doug enjoyed hiking and spending time outside. He was great at spotting birds and knew much about them, particularly birds of prey. He loved art and created some lovely Pollock-inspired paintings during the 1960s. He took his grandkids to art museums and taught them to also appreciate the fine arts. He loved music, particularly songs of yesteryear and jazz. Some of his favorite musicians included Miles Davis, Thelonious Monk, John Lennon, Stevie Wonder, John Coltran, among others. While sharing his love of music with his grandchildren, he started playing the piano, composing his own, original jazz tunes. He was an avid reader and collector of books, newspapers, and magazines. He was a lifelong Nebraska Huskers fan, a holdover from his years filming the team for the University of Nebraska. Not surprisingly, Doug was also a movie buff who prided himself on educating his grandchildren in classic cinema. He spent many hours watching movies with them and teaching them about the history behind black and white cinema and the greats of the classic screen. Doug was a traveler and loved to take road trips. As she was growing up, daughter Riva enjoyed many "filming trips" across the United States with her parents. In recent years, Doug shared his love of travel with his grandchildren, taking them on road trips to Canada (twice), the East Coast (twice), the Black Hills (three times), Colorado (twice), a trip through Utah, the Grand Canyon, California, and parts of Arizona; a trip to Texas and New Mexico, where they waded in the Rio Grande, among other things; a trip to visit family sites in Iowa and Illinois; a trip to central Nebraska to view the solar eclipse in 2017, and a trip to Yellowstone and the Grand Tetons.
Doug is survived by his wife of 57 years, Judith; his only child, daughter Riva Jane; four grandchildren, Douglas (his namesake), Andrew, Rebekah, and Duncan Sharples-Schmidt, all of Wakonda, SD; his older brother Tom and his wife Patty Panaia of Portland, Maine; and several cousins. He was proceeded in death by his grandparents, father, mother, an infant brother, and many aunts and uncles.
Doug's interment will be in the Sharples family plot in the Griswold Cemetery in Griswold, Iowa, which overlooks the house his father built and the creek where he once played as a child. To remember and honor Doug, a Celebration of Life event will be held on Saturday, Oct. 9, at 2 p.m. at Gayville Hall in Gayville, SD. All are invited to attend.
To send flowers to the family or plant a tree in memory of Douglas Sharples, please visit Tribute Store
Celebration of Life
2:00 pm - 5:00 pm
Saturday, October 9, 2021
Gayville Hall
Main Street
Gayville, South Dakota, United States
At Rest
Griswold Cemetery
Griswold
Griswold, Iowa, United States
Online Memory & Photo Sharing Event
Ongoing
Online Event
About this Event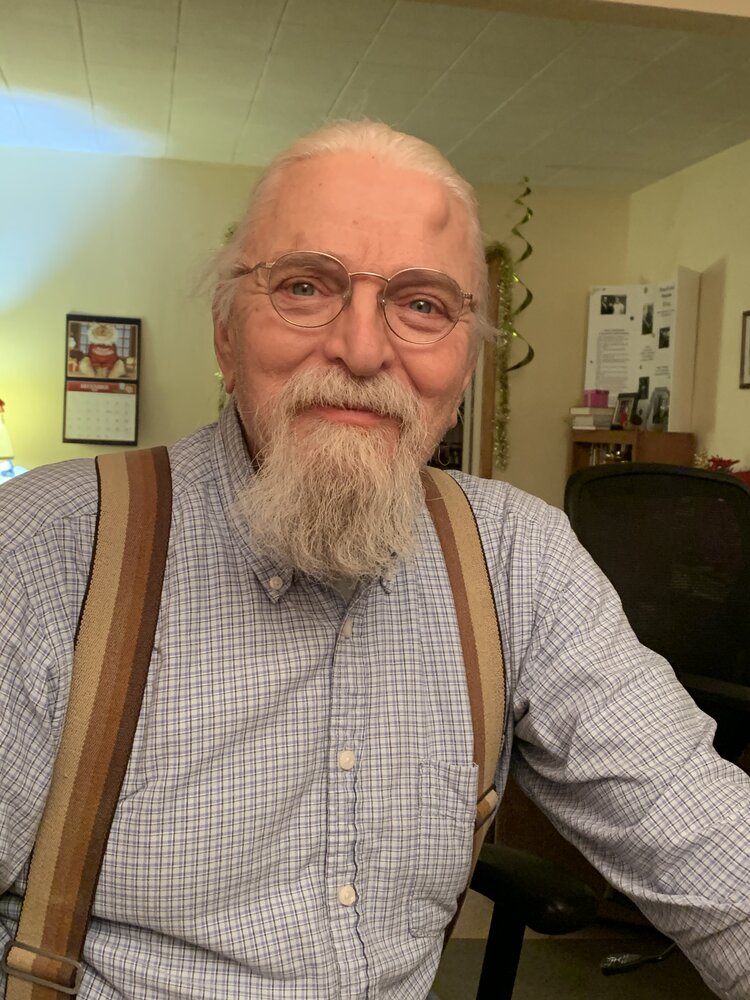 In Loving Memory
Douglas Sharples
1945 - 2021
Look inside to read what others have shared
Family and friends are coming together online to create a special keepsake. Every memory left on the online obituary will be automatically included in this book.