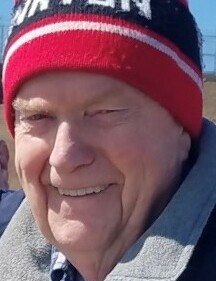 Obituary of Jerry F. Albrecht
Please share a memory of Jerry to include in a keepsake book for family and friends.
Jerry F. Albrecht, age 83 of Sioux Falls, SD passed away on Sunday, August 15, 2021 at Dow Rummel Village in Sioux Falls. A memorial funeral mass will be 11:00 a.m. Tuesday, September 14, 2021 at St. Benedict Catholic Church in Yankton, SD with the Rev. Fr. Thi as Celebrant. Visitation will be 5 to 7:00 p.m. Monday, September 13 at Opsahl-Kostel Funeral Home and Crematory in Yankton with a 7:00 p.m. vigil service and holy rosary. Live streaming of Jerry's services can be found at: https://www.facebook.com/opsahlkostel/live. Online condolences may be made at: www.opsahl-kostelfuneralhome.com. Arrangements are under the direction of Opsahl-Kostel Funeral Home and Crematory in Yankton. His Urn Bearer will be: Michael Stravato. Honorary Urn Bearers will be: Robert Albrecht, Joseph Stravato, Matthew Stravato Wanda Mueller, Tina Foell, and Linda Shumaker.
Jerry was born on Mother's Day, May 8, 1938, in Yankton SD, to Alfred and Gladys
(Christensen) Albrecht. He liked to joke that this was the best Mother's Day gift he ever gave his mom. He was baptized and confirmed at Sacred Heart Church in Yankton and in later years assisted with counting the offertory funds. He joined St. Benedict Catholic Church when it opened in 1993 and assisted with ushering, counting the offertory funds, as well as mowing and shoveling.
He attended school in Yankton and received his bachelor's degree in Accounting from Yankton College in 1960. While in high school and college he worked at his parent's grocery store, Albrecht's Grocery, and it was there that he met the love of his life, Pat (Lyons) Albrecht. He continued his education at the University of South Dakota where he received his master's degree in Business Administration in 1961 and was then hired by the Internal Revenue Service as a federal credit union examiner. This position required him to move to Chicago, IL, but he returned to Yankton for Christmas that year and he and Pat were married December 27, 1961. After living in Chicago for a brief time, they decided that the big city was not for them and returned to Yankton.
Jerry worked for Vogt Cleaners for a few years. In 1965 M-tron Industries opened in Yankton and made the wise decision to hire him. He continued to work for M-tron as Controller and then as a contractor after he retired. During the tax season he worked as a tax consultant for friends and family and continued this long past his retirement from M-tron.
Jerry and Pat had two children, Robert (Bob) and Michele. Jerry enjoyed spending time with Bob and visiting Michele and her family in Colorado. His favorite sports were football and basketball, however, he sat through more soccer games than he ever dreamed he would as both of his grandsons played. He was particularly proud when both boys kicked for their high school football team because they were finally "playing a game he understood". He, himself, loved to bowl and in his younger years, spent many Wednesday nights at the bowling alley. He loved railroads and had a model railroad that he designed and built in his basement. Jerry had a creative streak that he inherited from his mother, which enabled him to create a very realistic landscape for his railroad. He also had a talent for wood working and gifted many friends and family members with nativity sets, reindeer and praying hands. Jerry was known for always having a smile on his face and a wicked sense of humor.
He is survived by his son, Bob of Sioux Falls, SD; daughter Michele (Michael) Stravato of Aurora, CO; grandsons Joseph (Joe) of Federal Heights, CO and Matthew (Matt) of Boulder, CO and many nieces and nephews, as well as great and great-great nieces and nephews.
He is preceded in death by parents, Alfred and Gladys Albrecht, wife, Pat and sister, JoAnn Pieper Smith.
In lieu of flowers, please send balloons or consider making a memorial donation to the Lewy Body Dementia Resource Center, https://lewybodyresourcecenter.org/donate/.
To send flowers to the family or plant a tree in memory of Jerry Albrecht, please visit Tribute Store