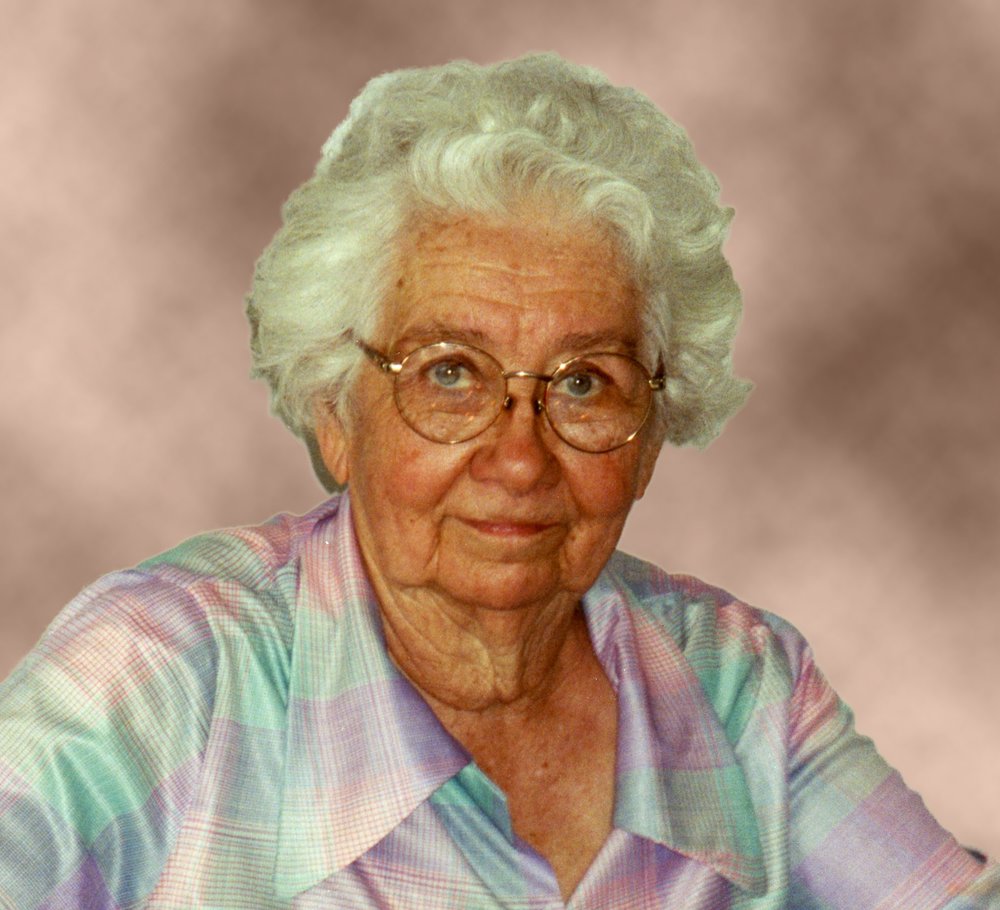 Obituary of Hattie Vellek
Please share a memory of Hattie to include in a keepsake book for family and friends.
Hattie (Beran) Vellek, age 98 of Yankton, SD, and formerly of Tabor, SD, passed away on Sunday, July 4, 2021, at Avera Sister James Care Center in Yankton. Funeral services will be 10:00 AM, Saturday, July 10, 2021, at the Opsahl-Kostel Memorial Chapel, Tabor, SD with the Rev. Fr. Mark Lichter officiating. Live streaming of Hattie's services may be found at: https://www.facebook.com/opsahlkostel/live. Burial will be in the ZCBJ Cemetery, Tabor, SD. Visitations will be 7 to 8 PM, Friday, July 9, 2021, at the Opsahl-Kostel Memorial Chapel, Tabor, SD and then one hour prior to the service at the funeral home. Online condolences may be sent at: www.opsahl-kostelfuneralhome.com. Arrangements are under the direction of the Opsahl-Kostel Memorial Chapel in Tabor. Pallbearers: Ryan Haight, Tori Haight, Maddie Gaber, Claire Gaber Mackenzie, Ebeler Hunter. Honorary Pallbearers: Helen Munkvold, Darrel Beran, Sherri Povandra, Mary Kay Law, Rebecca Wagner, Joanie White, Nancy Carrall, David Vellek, Roger Kostel, Carol Andera, Norma Langle, Ann McPherson Terry Vellek, and Debra Castro. Special Friends: Rodney Pechous, Deloris Moore.
Hattie was born on April 16, 1923 on the family farm near Lakeport to Frank and Katie (Harrant) Beran. She attended Lakeport school graduating from eighth grade. During her childhood she lived at times with her Aunt Mary Walsh and family assisting the household with domestic duties and childcare.
She married Raymond Vellek on October 7, 1941. They then moved to a farmstead near Tabor, SD for several years. In 1951 they purchased their farm near Tabor which they farmed until retirement and continued to live there until 2015. Following a stroke, she moved to Avera assisted living at Sister James Care Center at Majestic Bluffs in Yankton SD.
During her adult life she was a member of the Czech Heritage Society and American Legion Auxiliary. She was known around town as an excellent kolache and pie maker, as well as being known for her noodle making. Her home was always open to welcome friends and neighbors for coffee.
She is survived by her son, Dennis (Betty) Vellek, of Argyle, Texas; three granddaughters, six great- grandchildren and three great- great- grandchildren.
She is preceded in death by her parents Frank and Katie; husband Raymond; three brothers and one sister and all the in- laws from both the Beran and Vellek families.
To send flowers to the family or plant a tree in memory of Hattie Vellek, please visit Tribute Store
Visitation
7:00 pm - 8:00 pm
Friday, July 9, 2021
Opsahl-Kostel Memorial Chapel - Tabor
147 North Lidice
Tabor, South Dakota, United States
6056659679
Funeral Service
10:00 am - 10:45 am
Saturday, July 10, 2021
Opsahl-Kostel Memorial Chapel
147 North Lidice
Tabor, South Dakota, United States
6056659679
At Rest
10:30 am - 10:45 am
Saturday, July 10, 2021
ZCBJ Cemetery
N/A
Tabor , South Dakota, United States