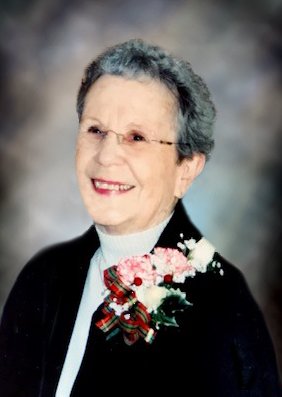 Obituary of Patricia Jean Christensen
Patricia Jean Christensen, age 97 of Yankton, SD passed away on Thursday, February 4, 2021 at Avera Sister James Care Center in Yankton. Due to COVID-19 restrictions, memorial services will be held at a later date.
Patricia Dunn was born December 3, 1923 in Yankton. As a child her family moved to Pierre, Huron, Columbus, NE and back to Yankton where she graduated from Yankton High School. She and the love of her life Elmo were married on November 28, 1943 and Pat joined Elmo in California where he was stationed in the Coast Guard during WW II.
After the war they moved to Huron, South Dakota in 1945 to work in a grocery store and later Pat and Elmo bought a grocery store in Yankton. In 1947 Elmo and Pat moved to Conway, Missouri and owned a motel and eventually moved to Wichita, Kansas where Elmo worked in housing construction and Pat focused on caring for her very special children, Sammy and Beverly Ann. The family returned to Yankton in 1957 and both Elmo and Pat worked at the Human Services Center for many years. Pat was the Director of Housekeeping and enjoyed her time there until retiring due to health issues.
Pat was a tireless advocate for individuals with developmental disabilities and served on the Board of Directors of Ability Building Services for many years. Pat was an enthusiastic and deeply dedicated member of Christ Episcopal Church and Episcopal Church Women. She was also a long-time member of PEO (Chapter AS) and Questers.
Their son Sammy died in his youth and daughter Beverly Ann lives at Majestic Bluffs having received services for many years from Ability Building Services.
Elmo and Pat were married for 74 years and Pat is also survived by her brother and sister-in-law, David and Sonia Dunn of Rochester, Minnesota, and also by nephews, nieces, and many dear friends.
Memorials may be directed to Ability Building Services Foundation, 909 W. 23rd Street, Yankton, South Dakota 57078 or Christ Episcopal Church, 517 Douglas Ave., Yankton, South Dakota 57078.
To send flowers to the family or plant a tree in memory of Patricia Christensen, please visit Tribute Store
A Memorial Tree was planted for Patricia
We are deeply sorry for your loss ~ the staff at Opsahl-Kostel Funeral Home & Crematory