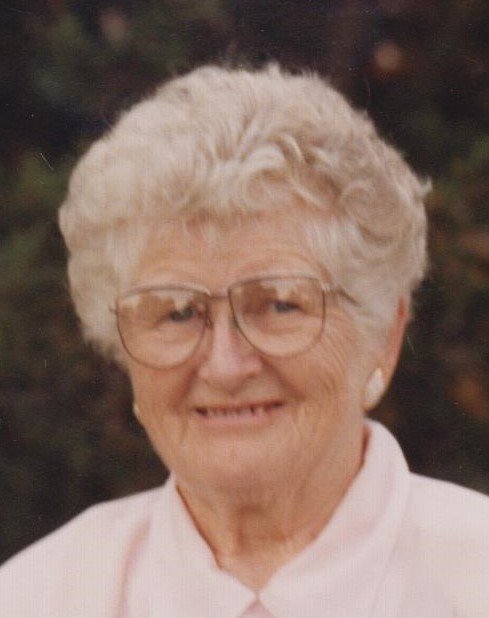 Obituary of T. Marjorie Curtice
Please share a memory of T. to include in a keepsake book for family and friends.
Theresa Marjorie Curtice, the oldest daughter of John and Theresa (Slowey) Gemmill, was born on September 30, 1917 on a family farm southeast of the Mayfield Store. She was raised on the family farm. She went to high school during the depression and moved into Yankton to work as a nanny/cook/housekeeper for a family in return for room and board. This arrangement allowed her to attend Yankton High School and graduate in 1936.
She went to work as a bookkeeper at Montgomery Ward in Yankton. She met the love of her life, Emery Curtice. They were married June 17, 1940 in St. Columba Catholic Church, Mayfield. Job transfers took them to Washington, Missouri, where their oldest two children, Lawrence "Larry" and Geraldine "Jerri Ann" were born. They moved to Poplar Bluff, Missouri, where their third child Robert "Bob" was born. Other transfers took then to Jefferson and Danbury, Iowa. In 1946, they moved back to Yankton, and adding six more children, Mary Ellen, Charles "Chuck," Richard "Rick," Patricia "Patti," Donald "Don," and Jane to their family. Marge was a fulltime housewife for many years. She was a self-taught seamstress, making all of her children's clothes, and altering clothes for customers out of her home. When her children were all in school, she was employed at a women's clothing store, the JoEllen Shop, where she was in alterations. She then managed Stevenson's, another women's clothing store, until her retirement.
Marge loved spending time with her family. Her family was everything. She loved visiting her children and relatives. She helped babysit her grandchildren at any opportunity. She loved attending sporting events and plays of her children and later her grandchildren. She also loved watching the Bob Ross painting shows and eventually took up painting. In her younger years, she was an excellent gardener and seamstress by necessity and later, a painter/artist out of joy.
She was a member of Sacred Heart Catholic Church and the Catholic Daughters of America.
Left to cherish her memory are her children: Larry (Angie) Curtice, Bob Curtice, Mary Ellen Brosonski, Chuck (Laura) Curtice, Rick (Donna) Curtice, Pat (Ben) Hartogs, Don Curtice, and Jane (Wayne) Smith; her grandchildren and great-grandchildren: Mike Curtice, Pat Curtice, Angie (David) Kresel, their daughter, Cathy and sons, David and Johnny; Emily Garcia, her daughter, Sondra; Jimmie Garcia, Phil Garcia, Brad (Imelda) Pesicka, Scott Pesicka and his daughter, Meika; Jamie Purzol and daughters Ly, Isabella, and son Vincent; Duke Brosonski, and son Ian and daughter, Ivey; Mary (Chris) Yarbrough, their sons, Nick, Noah, and Nate; Josh (Jeff) Hackford, Johnny (Nakiya) Curtice, daughter Hailey and son Colter; Nathan Curtice, his son Cash and daughters Ella and Nora; Justin Curtice, Quincy (Devon) Harwood, Sean (Erin) Smith, their son Teagen and daughters Brooklynn, Brynlee, and Sydney; Riley (Christine) Smith, their daughter Charlotte and sons Ethan, Hunter, and Elijah; Tanner (Erin) Smith and their son Landon; the children of granddaughter Kim Cassero, daughter Jennifer (Michael) Dixon and son Jason Cassero; one sister, Lorraine Garvey; many nieces, nephews, other relatives and friends.
Marge was preceded in death by her parents; her husband, Emery Curtice; her daughter, Jerri Ann Pesicka; sons-in-law, Charlie Brosonski and Johnny Johnston; granddaughter, Kim Cassero; grandson-in-law, Greg Purzol; great-grandson, Nolan Yarbrough; and brothers Ralph, Wilbur "Bud", and Harold Gemmill; and one sister, Lucille Farley.
To send flowers to the family or plant a tree in memory of T. Curtice, please visit Tribute Store