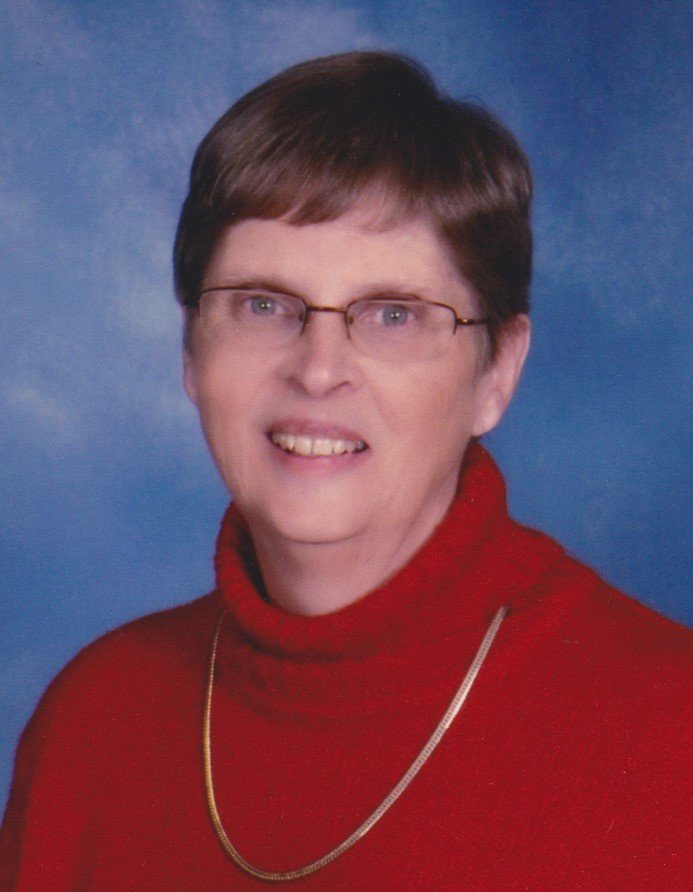 Obituary of Peggy Jo Herges
Please share a memory of Peggy to include in a keepsake book for family and friends.
Peggy Jo Herges, age 67 of Scotland, SD passed away Monday, September 21, 2020 at Oak Terrace Nursing Home, Freeman, SD. Mass of Christian Burial will be 10:30 AM, Saturday, September 26, 2020 at St. George's Catholic Church, Scotland, SD with the Rev. Fr. Randy Phillips and Deacon Ernie Kociemba officiating. Burial will be in St. George's Cemetery, Scotland, SD. Visitations will be 5 to 7 PM, Friday, September 25, 2020 at St. George's Catholic Church, Scotland, SD with a vigil service at 7:00 PM. Visitations will resume for one hour prior to service time at the church on Saturday. Due to COVID-19 concerns, those that wish to participate through live streaming of Peggy Jo's services may do so at: https://www.facebook.com/opsahlkostel/live. Those wishing to attend in person are asked to wear a mask and to practice social distancing guidelines. Online condolences may be sent at: www.opsahl-kostelfuneralhome.com. Arrangements are under the direction of Opsahl-Kostel Funeral Home and Crematory in Yankton.
Mom, I know this isn't the way you would say it, but I am just going to go ahead and say it:
Peggy, daughter of Elmer and Nyla (Carstensen) Prinsen was born September 9, 1953 in Pipestone, Minnesota. She graduated from Pipestone in 1971 and went onto St. Cloud School of Nursing, receiving her R.N. degree in 1974. She was a devoted nurse of 38 years, caring for patients wherever life took the family.
Peggy was united in marriage to Tom Herges on September 10, 1977 thinking she would earn a quarter for every time the legend of Joe White was told. To this union, two irreplaceable children were born with the understanding that someone would always keep an eye on Tom. Don't worry mom, we'll take care of him.
Being a true mom, Peggy would sacrifice her own interests, time, and habits for the good of her family. She put her family first and was a very devoted wife and mother. Always taking the lead, she would keep life organized while packing and unpacking our life after each and every move. Neither the snow drifts of Minnesota, deserts of Texas, oceans of California, nor plains of South Dakota prevented her from doing what she loved. She enjoyed puzzles, games, bowling, and entertaining friends.
Her seven grandkids were her pride and joy. She always said, "If I knew grandkids were going to be this much fun, I would have had them first." While time wasn't on her side, she enjoyed every minute playing, reading, spoiling, and sometimes nursing all of them. Peggy retired from nursing at the age of 58 after being diagnosed with Early-Onset Alzheimer's Disease. After retiring, she spent a lot of time travelling the country, golfing, and visiting friends and family. She was able to visit forty-nine of fifty states, Mexico, and Canada.
Left to cherish her memory are her husband of 43 years, Tom Herges, Scotland; children, Erin and Chad Odens, Scotland, Kyle and Ashley Herges, Mitchell; seven grandkids, Conner, Kade, Kailin, Colton Odens, Kinsley, Karsten, Kapri Herges; mother, Nyla Prinsen, Pipestone; and sisters Barb/Bob DeBates, Kris/Mark Vedad Haghi, and Jody/Bernie Siefken. Along with a host of other relatives and friends.
She was preceded in death by her father, Elmer Prinsen, grandparents; godmother, Doris Carstensen, and godfather, Earl Prinsen.
"I'll never forget our perfect moments we spent together, even if you will forget them all."
Memorials may be directed to the South Dakota Alzheimer's Association: 4304 S. Technology Drive, Sioux Falls, SD 57106.
To send flowers to the family or plant a tree in memory of Peggy Herges, please visit Tribute Store
Share Your Memory of
Peggy