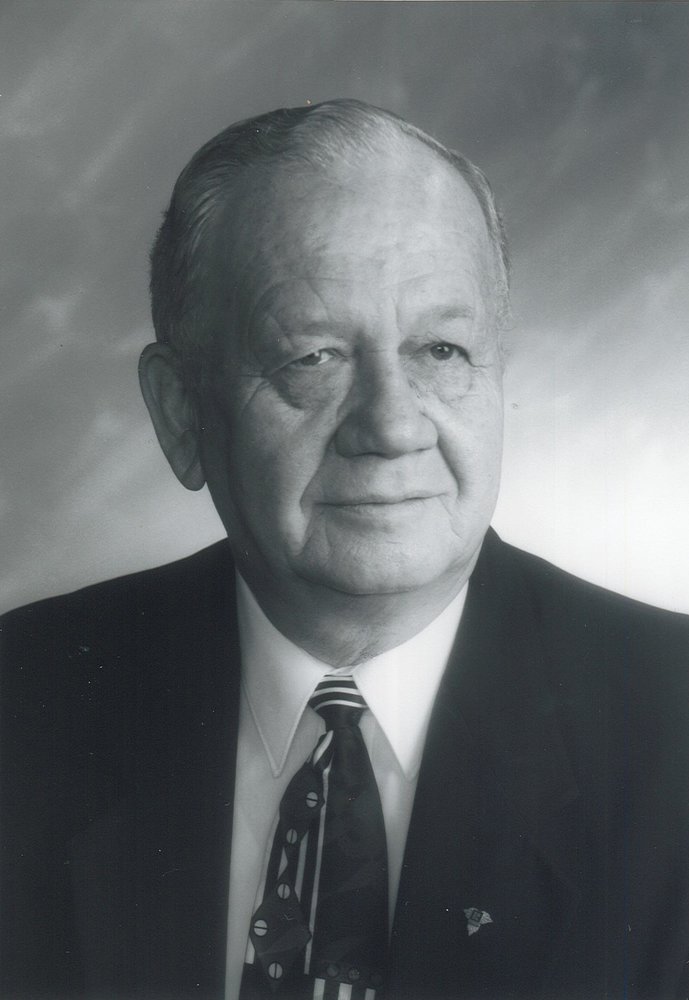 Obituary of Ted P. Mickelson
Mickelson, Ted
Ted P. Mickelson, age 89 years and 364 days, https://www.facebook.com/opsahlkostel/live of Yankton, SD passed away on Saturday, July 4, 2020 at Autumn Winds Assisted Living in Yankton. Private family memorial services will be 2:30 pm, Thursday, July 9, 2020 at the 1st United Methodist Church, Yankton, SD with Rev. Katie Rickehttps://www.facebook.com/opsahlkostel/live officiating. Public burial of his cremated remains will be at approximately 3:20 PM, Thursday afternoon in the Yankton Cemetery, Yankton, SD with Military Graveside Flag presentation will be provided by the South Dakota Army National Guard Reserve Honor Guard. Live streaming of Ted's service and committal can be found at: https://www.facebook.com/opsahlkostel/live. On line condolences may be sent to: www.opsahl-kostelfuneralhome.com. The Opsahl-Kostel Funeral Home and Crematory, Yankton, SD is assisting with the service details.
Ted was born in Mitchell, SD to Mabel M. and Theodore B. Mickelson on July 5, 1930. He went to high school in Woonsocket, SD, went on to college at Dakota Wesleyan University, Mitchell, SD, graduating in 1952. He served in the U. S. Army from 1952 to 1954. In 1956, he married Nadine R. Edinger and they were together for nearly 55 faithful years. They moved to Norfolk, NE in 1957, where he worked for Durland Trust Co. In 1962, they relocated to Yankton, SD where he worked as a supervisor and door to door milk salesman for Meadow Gold Dairy. In 1970, he went into private business and started Mickelson Real Estate and continued till his retirement in January of 2015.
Ted's passion was being an active member of the Yankton Elks Lodge #994 serving in a multitude of positions from Exalted Ruler in 1972, District Deputy for National in 1977, and State President in 1990. Ted was also on the National Government Relations Committee for 4 years. He was very active in receiving donations on behalf of the Elks National Foundation which in turn donated grants back to charitable projects in the Yankton community.
Ted also participated in Shriners, Jaycees, Yankton County Commissioner for 12 years, and he supported the activities of the Yankton Chamber of Commerce. Ted and Nadine also loved Monday night mixed bowling league. Ted was a beloved follower of all Yankton High Athletics and he loved his Minnesota Twins and Vikings teams.
Ted is survived by his 2 sons, Craig (Irene) of Aberdeen, SD and Clark (Jeri) of Mitchell, SD, 1 daughter Shari (Gary) Webster of Lafayette, MN and 9 grandchildren and 4 great grandchildren. He was preceded in death by his wife Nadine R. and parents and grandparents.
Memorial donations may be made to the Yankton Elks Lodge and the First United Methodist Church in Yankton.
To send flowers to the family or plant a tree in memory of Ted Mickelson, please visit Tribute Store
Private Family Memorial Services
2:30 pm - 3:15 pm
Thursday, July 9, 2020
1st United Methodist Church
207 W 11th St
Yankton, South Dakota, United States
Public Interment Service
3:20 pm - 3:40 pm
Thursday, July 9, 2020
Yankton Cemetery
2500 Douglas Street
Yankton, South Dakota, United States
Military Flag Presentation by the SDARNGHG