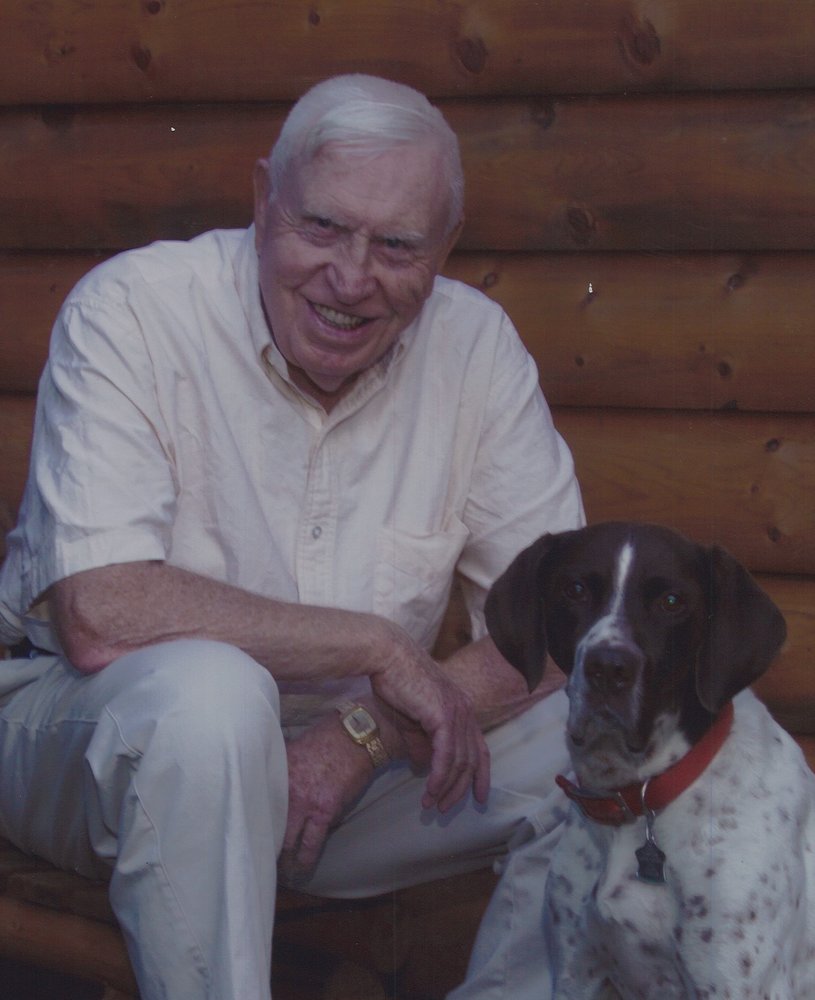 Obituary of Verne Daniel Hull, Jr.
Verne Daniel Hull, Jr. age 96 of Yankton, SD died Wednesday, May 20, 2020 at Avera Sister James Care Center, Yankton, SD. Private Family Funeral Services will be 10:30 AM, Monday, May 25, 2020 at the Opsahl-Kostel Funeral Home & Crematory, Yankton, SD with Rev. Jacqueline Hickox-Morgan officiating. Live streaming of his service may be viewed on: https://www.facebook.com/opsahlkostel/live. Military Graveside Rites will be by the Ernest-Bowyer VFW Post #791 Honor Guard and the SDARNGHG. He has gifted his body to USD Medical School, Vermillion, SD and will be buried in the Graceland Cemetery, Mitchell, SD after that study. Drive up window public visitation will be one hour prior to the service at the funeral home. On line condolences may be sent: www.opsahl-kostelfuneralhome.com.

Verne Daniel Hull Jr. was born in St. Paul, Minnesota, on July 8, 1923. Shortly after his birth he was adopted by Verne Daniel Hull Sr. and his wife, Oma. To people with whom Verne Jr. was closest he always preferred to be addressed by his nick name, Danny. And this obituary will thus honor Danny's wish. Danny's adoptive parents lavished him with their love and affection and in the tough economic times of the 1930s raised Danny as an only child in Mitchell, South Dakota. Somewhat mediocre in school, Danny excelled as a highly motivated athlete. In basketball he especially found his niche both in high school and college, and as a semipro player. In his later years Danny found satisfaction in running road races and marathons, bicycling, and in playing tennis and table tennis. Though good at most sports, Danny, enjoyed reading the classics and playing chess. Foremost, however, Danny liked pursuing upland game birds with his hunting dogs, either with friends or by himself.

During World War Il Danny served with The Second Armored Division in Germany where he sustained major wounds from combat. An honorable discharge from the service 1ed to Danny profiting from both the GI Bill and VA medical care. At this point some facts need to be highlighted. Though Danny had stirrings of the heart while in Europe during World War II, he, nonetheless, remained a lifelong bachelor. Subsequently, Danny pursued higher education at Dakota Wesleyan (South Dakota), Grinnell College (Iowa), The University of Syracuse (New York), Minot State Teachers College (North Dakota), The University of North Dakota, and The University of Nebraska (at Lincoln). When Danny finally got around to earning a living, he taught school at Tuttle (North Dakota), Ray (North Dakota), Mapleton (North Dakota), Fargo (North Dakota Townsend (Montana), Prentice (Wisconsin) and finally and for good, at Lexington (Nebraska), where he retired in 1987.

During his early years of teaching Danny coached all of the main sports. But Danny's skin was much too thin to long endure the stress of competitive coaching. However, always having had an intellectual bent, Danny soon found equal satisfaction and pleasure as a history teacher, his outgoing personality warming to the role of showing to his students the link between the past and the present. Nevertheless, it should be mentioned that Danny could sometimes be somber and withdrawn.

Having long suppressed his curiosity about his ·origins, Danny waited until the deaths of his father and mother before initiating a quest for his biological parents. Eventually Danny found two who were his first cousins by birth, Ray Bain of Aberdeen, South Dakota, and Rosemary Calvin of Maple Grove, Minnesota. Rosemary in particular took it upon herself to compassionately and kindly reveal the nature of his background and birth. For this Danny remained forever grateful to Rosemary.

For a number of years Danny wintered at Alamogordo, New Mexico, living in his travel trailer; but after turning 80 years of age, Danny felt the time had come to live closer to relatives and chose to move to Yankton, South Dakota, to be near his step-brother, Roy Wilcox, and his step-sister, Marie Erickson.
Bird Dogs and their training became the big focus of Danny's life. Danny wrote short stories and novels about dogs. He loved them. He anthropomorphized them both in his stories and in his feelings about dogs in general. To this end, Danny established a hunting dog training facility (Platte River Kennels) at Lexington. Many of his bird dogs satisfied Danny's competitive spirit by being winners in a variety of field trials.

Danny was a life member of the Veterans of Foreign Wars (VFW), the Disabled American Veterans (DAV), and the Military Order of the Purple Heart (MOPH). Danny loved living in Yankton this past 17 years. He socialized, driving his car up to two years ago with his license plate, "Combat Wounded" and wearing his cap reading "Purple Heart". He loved eating out and he was constantly greeted with "Thank You for Your Service". He attended many Veteran recognition events and recently received the "Quilt of Valor''.

Survivors are his beloved dogs, "Rango" a 9-year-old German Shorthair Pointer and "Creamer'' a 12- year old Yellow Labrador Retriever. Sandy (Clyde) Wilcox and families of Egan, Minnesota, Marie and Gale Erickson and families of Gayville, South Dakota and Roy & Linda Wilcox & families of Yankton, South Dakota
To send flowers to the family or plant a tree in memory of Verne Hull, Jr., please visit Tribute Store