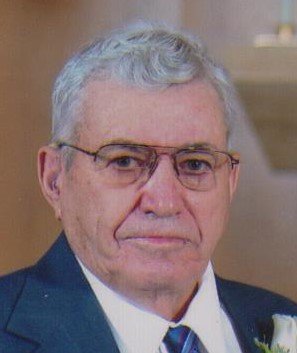 Obituary of Harold John Fejfar
Harold John Fejfar, age 90 of Yankton, SD and formerly of Lesterville, SD passed away on Tuesday, May 26, 2020 at Avera Sister James Care Center in Yankton. Due to current healthcare precautions, there are no services planned at this time. A private family service honoring Harold's life will be held at a later date. Arrangements are under the direction of Opsahl-Kostel Funeral Home and Crematory in Yankton. Online condolences may be made at: www.opsahl-kostelfuneralhome.com.
Harold was born on April 9, 1930 to Harry and Rose (Hlavac) Fejfar in Janousek, SD and grew up on a farm between Lesterville and Utica. He attended Wilson Country School before graduating from Yankton High School in 1948. On June 27, 1951, Harold married Clarine Wood at Sacred Heart Catholic Church in Yankton.
A fourth generation Yankton County farmer and full-blooded Bohemian, Harold was proud of his family's heritage. The Fejfar's were one of the first Czech families to settle in the area, arriving in 1869. Last year marked the 150th Anniversary of the Fejfar Family in South Dakota.
Harold enjoyed a good game of cards. While living on the farm, he played cards at Joe's Substation and then later at JoDean's after moving to Yankton. Among Harold's interests were airplanes, the fuel efficiency of automobile engines, and tinkering around in his shop on the farm. Harold also enjoyed spending time with family, watching old westerns, and the occasional tomato beer.
Harold is survived by his wife of 69 years, Clarine Fejfar of Yankton, SD; sons, Gerry (Lora) Fejfar of Sioux Falls, SD and Jeff (Maureen) Fejfar of Yankton, SD; daughter, Nancy (Rod) Benjamin of Englewood, FL; daughter-in-law, Mary Fejfar of Yankton, SD; eleven grandchildren: Chris, Jenna, Nick (Kasina), Allison, Megan Fejfar, Jeremy (Tammy), Jeff (Denisa), Justin Fejfar, Robbyn (Aaron) Smith, Raeanna (Trent) McCollum, and Ross (Sara) Benjamin; nine great-grandchildren: Caleb, Connor, and Ella Fejfar, Sura Fejfar, Diana and Warren Fejfar, Elliana Smith, Maxx, and Hayden McCollum.
He was preceded in death by his son, Steve; an infant brother Howard; and parents Harry and Rose Fejfar.
Expressions of sympathy may be sent to: Clarine Fejfar, 2109 W. 11th Street – Apt. 110, Yankton, SD 57078.
To send flowers to the family or plant a tree in memory of Harold Fejfar, please visit Tribute Store