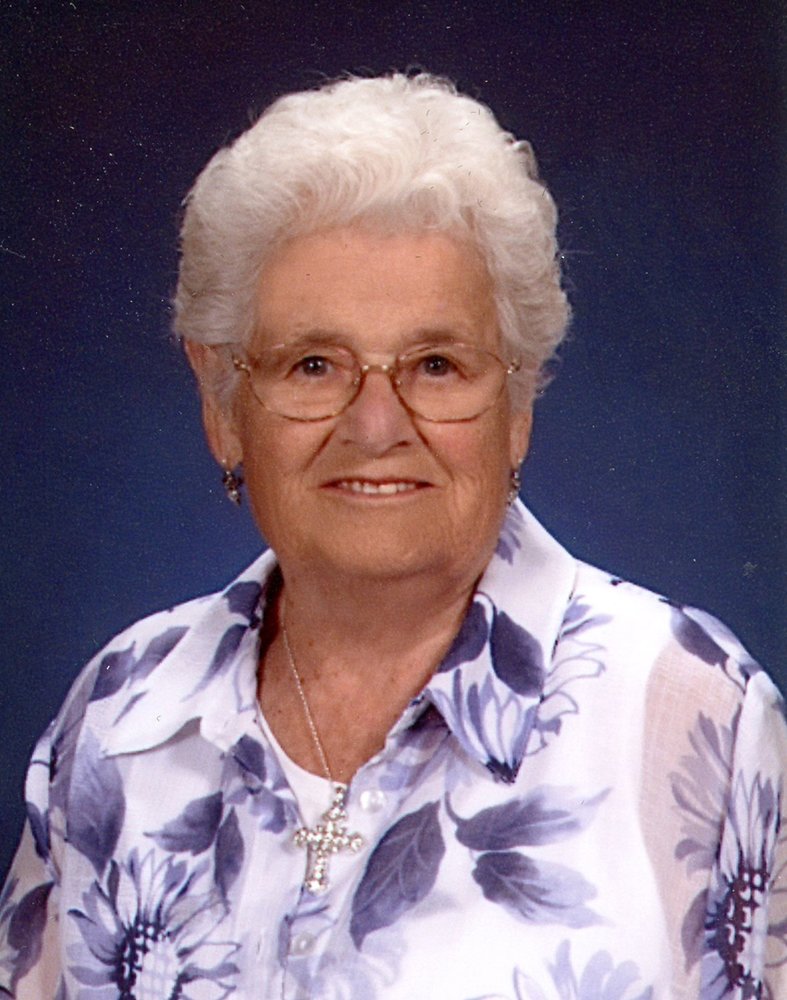 Obituary of Marion Bruegman
Marion was born on September 6, 1927 in Hay Springs, NE to Regnar and Alice (Andreasen) Sund. On June 30, 1956, she married the love of her life, Fred Bruegman. They farmed in the community of Lakefield, MN until 1967 when they moved to their farm south of Bloomfield, NE. While on the farm they raised their children and Marion enjoyed helping Fred with the farm work. After living on the farm for 22 years, they moved to a house in town. In 1992, after the passing of her husband, Marion moved to Papillion, NE and lived with her daughter and family. In 2005 she joined her family and moved back to Northeast Nebraska and lived in her cabin on the Missouri River which was a dream of hers. She moved to Mainview Apartments in 2008 where she enjoyed playing cards with all her friends. In 2015, she moved to Majestic Bluffs in Yankton. She developed new friendships and enjoyed talking, playing cards, bingo, and telling stories.
Marion was always busy and doing something new. She enjoyed woodworking with her brother, Kenneth. She also had a passion for deer hunting. She spent many mornings and evenings sitting patiently waiting for the "Big One" to pass by. We affectionately referred to her as Dead Eye Dick, as she never missed. She was a joy to sit with. The conversations in the deer stands were always filled with joy, anticipation, and too much laughter for the situation. In addition to hunting, Marion absolutely loved to fish. She especially liked to spend time fishing on her pontoon boat at the cabin. She always had a line out and loved spending quality time with her family on the boat. Marion was a devilishly devious Chinese checkers player and an equally gifted card player. When determining teams, you always hoped she was on your team. She went to every game the grandchildren participated in. She was always the number one cheerleader for them in sports or any activity. She traveled all over the country visiting family and friends.
Marion is survived by 6 children: Linda Briggs, Otto (Uma) Bruegman, Eric (Paula) Bruegman, Greta Bruegman, Iver Bruegman, and Alice Castaneda; 15 grandchildren: Chad (Melissa) Petersen, Cory Bruegman, Sean Bruegman, Frederick Bruegman, Jodi (Carl) Dumler, Wayne (Karrah) Bruegman, Daniel Bruegman, William (Courtney) Lawyer, Jonathan Lawyer, Amanda Lawyer, Brandon Lawyer, Amber Bruegman, Cody Bruegman, Sarah Castaneda, and Michael Castaneda and 7 great-grandchildren: Jacob Petersen, Cody Petersen, Aletheia Dumler, Mckenzie Lawyer, Mckayla Lawyer, Landon Jensen, and Alahna Lawyer.
Marion was preceded in death by her husband, Fred; parents, Regnar and Alice; brothers, Walter and Kenneth; sister-in-law, Bertha and other extended family and friends.
To send flowers to the family or plant a tree in memory of Marion Bruegman, please visit Tribute Store
Visitation
5:00 pm - 7:00 pm
Thursday, September 19, 2019
1st Trinity Lutheran Church
402 Main Street
Bloomfield, Nebraska, United States
402-373-4797
Also for one hour prior to service time on Friday.
Funeral Service
3:00 pm - 3:45 pm
Friday, September 20, 2019
1st Trinity Lutheran Church
402 Main Street
Bloomfield, Nebraska, United States
402-373-4797