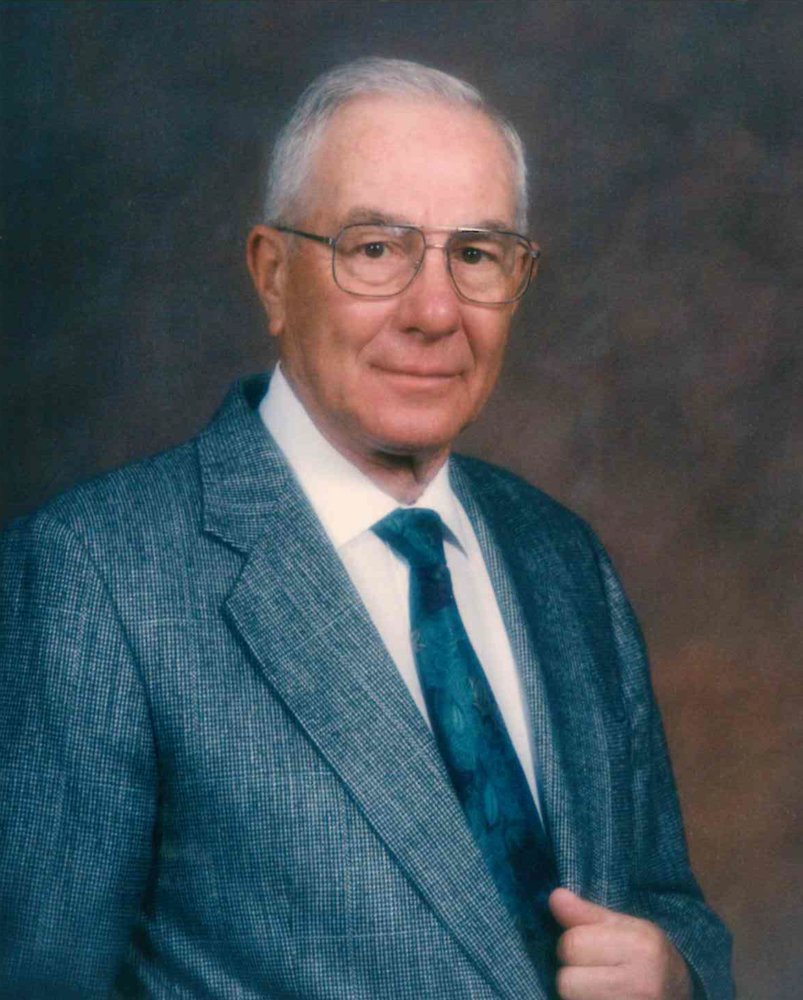 Obituary of George Alan Townsend
George was born on August 26, 1923 in Tecumseh, NE, to Merl and Anna (Brundage) Townsend. He attended high school in Fremont, NE and the University of Nebraska in Lincoln. While in college he joined the U.S. Army during WWII and served in the Pacific Theater. After the war, he met the love of his life and married Joyce E. Potter in Columbus, NE in 1949.
George spent much of his career as a district manager for Dekalb Seed Agricultural Research for over 30 years. George and Joyce retired to Sun City West, AZ and then to San Diego in 2013. He was active in the Yankton community as a life member of the Elks, VFW, Scottish Rite Masonic Temple, El Riad Shriners, a member of the UCC (Congregational Church), and a longtime member of the Hillcrest Golf and Country Club. As an amateur horticulturist, he lovingly undertook the landscaping of the entire area around the townhouses where he and Joyce lived in Yankton.
George was a lover of life, the best storyteller, and had a quick witted sense of humor. He will be remembered as a lover of Butterfinger Blizzards, Kit Kats, time in the Black Hills, stories that contained "tada, tada, tada", Townsend Ticker Tape, French toast sticks with mounds of syrup, and the "hotel". In the last 2 years of his life he completed his memoir, An American Midwest Family: The Townsend Clan, and was especially proud that it was accepted into the Library of Congress. Also, he was immensely proud to have been included on an Honor Flight to Washington, DC for his WWII service. George maintained an open door policy at the Remington in Rancho Bernardo, so he could continue regaling others with stories and jokes.
George loved his family and was so very proud of them. George leaves behind his son, Alan (Marjorie) of San Diego, CA; daughters, Deborah T. (Scott) Haffner of S. Windsor, CT, and Jolaine T. (Doug) Pokorney of Rapid City, SD; six grandchildren: Jonathan Todd (Alicia) Haffner, Katie Jo (Rob) Gustavesen, Jamie Lynn (Jeremy), Pond, Kristi Lee (Tyrel) Pokorney, Stacie Anna Townsend (Andrew Delman), and Thomas Corson Townsend and 4 great grandchildren.
George was preceded in death by his wife, Joyce, of 66 years; sister, Barbara Heerman and brother in law, Dr. Ruben Heerman.
Memorial donations may be made to the Juvenile Diabetes Research Foundation, 26 Broadway, 14th Floor, New York, NY 10004.
The family wishes to express thanks to Elizabeth Hospice and to his special caregivers, Nick Fernandez, Jr., and Yolanda Ketchum.
To send flowers to the family or plant a tree in memory of George Townsend, please visit Tribute Store
Visitation
4:00 pm - 6:00 pm
Friday, September 13, 2019
Opsahl-Kostel Funeral Home & Crematory
601 West 21st Street
Yankton, South Dakota, United States
6056659679
Memorial Service
10:30 am - 11:00 am
Saturday, September 14, 2019
United Church of Christ (Congregational)
210 West 5th Street
Yankton, South Dakota, United States
At Rest
11:30 am - 11:45 am
Saturday, September 14, 2019
Yankton Cemetery
2500 Douglas Street
Yankton, South Dakota, United States