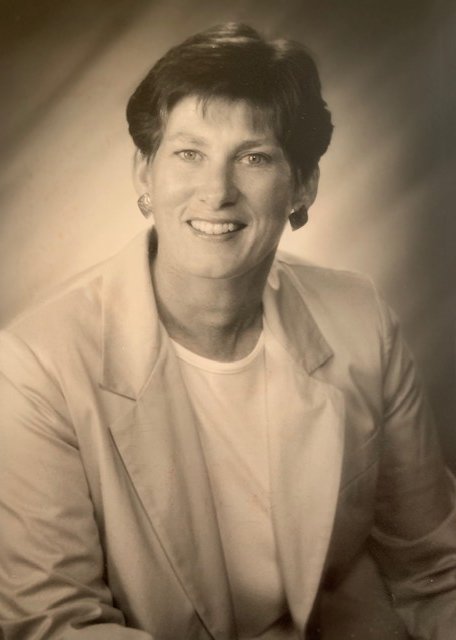 Obituary of Ellen McVay
Ellen Frances Rodman McVay was born May 4, 1949, in Louisville, KY, to George Hurst Rodman and Francis Mulligan Rodman. She grew up in Greenville, KY, and graduated from Greenville High School in 1967. Ellen received her Bachelor of Arts from Mount St. Joseph University in Cincinnati, OH, in 1971 and then completed her Masters in Social Work at the University of Kentucky in 1973. She worked as a clinical social worker from 1973-1975 at the University of Kentucky Chandler Medical Center.
Ellen was married to Michael McVay on September 13, 1975, in Lexington, KY. Ellen and Michael then moved to Gallup, NM, where she worked for the United States Public Health Service as a clinical social worker. In 1979, they returned to Yankton where Ellen joined the staff of the Lewis and Clark Mental Health Center as a clinical social worker. In 1983, Ellen started her private practice, Counseling Services, which she then changed to be Christian Life Counseling in 1986, as she was offering spiritual as well as emotional care for her clients. Ellen completed the Spiritual Direction Ministry Formation Program at Sacred Heart Monastery in Yankton. She continued to offer spiritual direction in her home for many years until the onset of Alzheimer's disease caused her to stop this ministry.
Ellen was an Advisory Board Member to the National Service Committee of the Catholic Charismatic Renewal, Regional Advisor to the Association of Christian Therapists, Board Member for Avera Sacred Heart Hospital Hospice, and clinical instructor for the Sanford USD School of Medicine. She was a co-founder of the Avera Center for MindBodySpirit, Yankton, SD.
Ellen and Michael have four children, Emily, Kathleen, Patrick, and Tyler, and six grandchildren who brought her smiles and happiness despite her illness. She was a devoted wife and mother who created a loving and welcoming home for family members and friends throughout the years. Ellen loved to have a neighborhood Christmas party at the 416 Capital residence where people came to sing Christmas carols and enjoy good food. There were even surprise visits by Santa Claus that everyone enjoyed.
Ellen's spiritual life was so important to her. She was an active member of Sacred Heart Church and Christ Episcopal Church. Ellen loved to offer adult education classes for the church community. Her passion was to teach Centering Prayer, a contemplative Christian prayer.
After retiring, Ellen loved to spend time with friends while kayaking on the Missouri River and Lewis and Clark Lake. At age 61, Ellen received the diagnosis of Alzheimer's disease. Even with all the difficulties of that diagnosis, Ellen became an advocate for spreading awareness about this illness. She was an advisory member for the National Early Stage Alzheimer's Disease Committee and offered many public forums in Yankton where she shared the journey of her illness. Ellen's motto during this difficult time was "I choose to be happy", which sustained her through many trying moments. Ellen and Michael relocated to Highlands Ranch, CO, in 2017 to be closer to children and grandchildren.
Ellen's memory will be cherished by her husband, Michael McVay of Highlands Ranch, CO and formerly of Yankton, SD; children: Emily (Scott) Bryant of Highlands Ranch, CO, Kathleen (Logan) Kane of Inver Grove Heights, MN, Patrick (Stefanie) McVay of St. Louis, MO and Tyler (Julie) McVay of Englewood, CO and three brothers: James (Bobbi) Rodman of Lynchburg, VA, Jack (Carol Scheele) Rodman of Raleigh, NC and Charles Rodman of Corpus Christi, TX.
Ellen was preceded in death by her father, George Hurst Rodman; mother, Francis Mulligan Rodman and older brother, George Rodman.
Memorials may be made to: The South Dakota Alzheimer's Association: 4304 S. Technology Drive, Sioux Falls, SD 57106 or Contemplative Outreach, 1560 Union Valley Rd, #909; West Milford, NJ 07480.
To send flowers to the family or plant a tree in memory of Ellen McVay, please visit Tribute Store
Visitation
9:00 am - 10:00 am
Saturday, July 20, 2019
Opsahl-Kostel Funeral Home & Crematory
601 West 21st Street
Yankton, South Dakota, United States
6056659679
Memorial Service
10:00 am - 10:45 am
Saturday, July 20, 2019
Opsahl-Kostel Funeral Home & Crematory
601 West 21st Street
Yankton, South Dakota, United States
6056659679
Interment
11:00 am - 11:15 am
Saturday, July 20, 2019
Yankton Cemetery
2500 Douglas Street
Yankton, South Dakota, United States