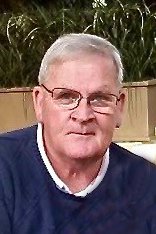 Obituary of Mark D. Mulloy
Mark was born October 13, 1951, the son of John (Flavian) and Lauretta McKenzie Mulloy, in Chamberlain, SD. His family lived in Sioux Falls before moving to the Gayville area in 1965, where his father helped to start the Kolberg Manufacturing Company in Yankton.
Mark graduated from Gayville-Volin High School in 1969 and attended the University of South Dakota before joining the U.S. Army. After serving in the military, he returned to Yankton and began a 43-year career with Kolberg-Pioneer, retiring in September 2017. During his tenure with the company, Mark worked mainly in equipment and parts sales, traveling the entire United States.
In 1975, Mark and Diane Miller were married and to this union, their daughter, Thea, was born. On July 1, 2014, he married Patricia "Pat" Vavra, his longtime friend and companion.
Mark enjoyed golfing; was a great story teller, quick witted, and will be remembered for making people laugh; adding gaiety and cheer to any occasion. Mark was also a loving husband, devoted father and a doting grandfather.
In July of 2017, Mark underwent a successful liver and kidney transplant in Milwaukee Wisconsin and after a remarkable recovery, was able to travel once again, enjoying retirement, and visiting his children and grandchildren. In November of 2018, Mark was diagnosed with pancreatic cancer and had just recently begun treatment for the disease at the time of his death.
Mark is survived by his wife, Pat (Vavra) Mulloy; daughters: Thea (Matt) Raab of Nantucket, MA, Hope (Nathan) Rose of Rapid City, SD and Jessica (Michael) Quinlivan of Sioux Falls, SD; siblings: Don (Mary Lee), Gaylen (Mary Lou), T.J. (Mary Rose), Marlin (Cheryl), Myrna (Bernie) Hunhoff, Patty (Larry) Hojem and Peggy Mulloy; grandchildren: Ava and Sydney Raab, Avery, Ethan, Brady and Aria Rose and many nieces and nephews; along with friends across the United States.
Mark was preceded in death by his parents, John and Lauretta Mulloy and his maternal and paternal grandparents.
Mark's family asks that friends and family consider organ donation and for additional information go to www.DonateLife.net.