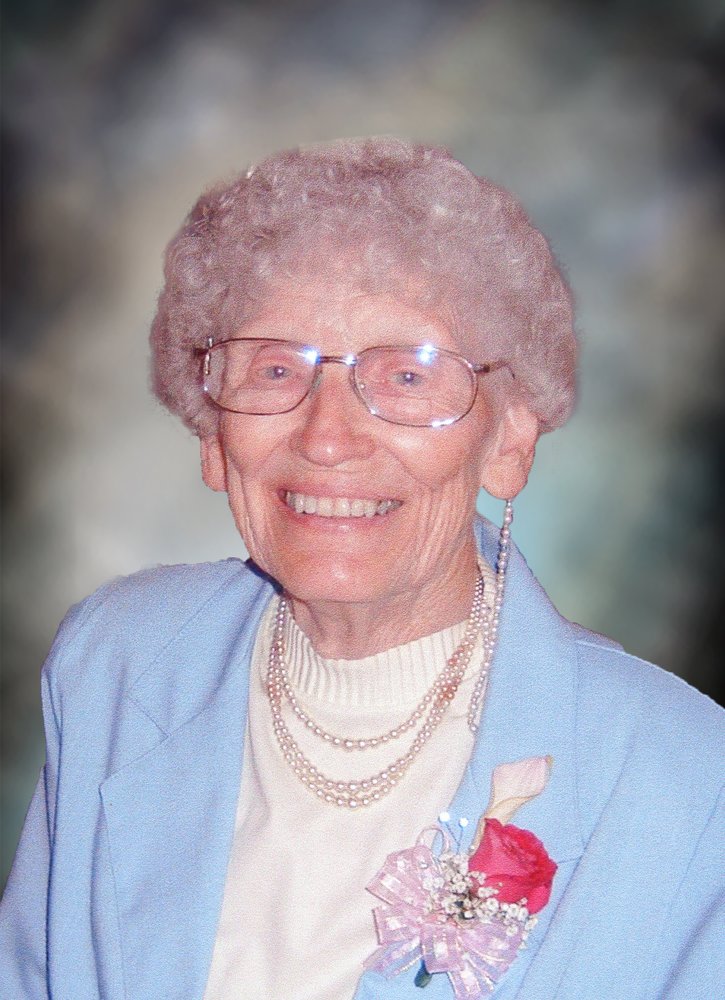 Obituary of Margaret J. Hunhoff
Margaret Modde was born January 17, 1924 to Frank and Emma (Phillips) Modde of Oto, Iowa. She was raised by her grandparents Harvey and Hattie Phillips, due to childhood illnesses suffered during the Great Depression.
Margaret graduated in 1941 from Oto High School, where she was editor of the school paper and a member of the harmonica band. She came to Yankton in 1944 to attend Sacred Heart School of Nursing and began a lifelong association with the Benedictine sisters. She served as a nurse with local hospitals and nursing homes. From 1978 to 1996 she worked with Yankton Area Adjustment Training Center (now ABS).
She married Bernard Hunhoff August 20, 1946. They farmed near Utica and had eight sons. They were active in St. Agnes Church and the Utica/Sigel communities. All through life, she tended to the needs of the sick, the poor and anyone who needed a friend.
After her husband died in 1982, she moved to Yankton and volunteered with Sacred Heart Church, Avera Sacred Heart Hospital, Ability Building Services and other groups. She wrote a monthly column called Grandma's Scrapbook for the Yankton County Observer for 20 years. Her poems and essays were published in many newspapers and magazines. A collection of her poetry and essays, "Seventh Son," was published in 2001.
Margaret treasured her family, her Catholic faith and the written word. Those values sustained her through difficult times, especially after the death of her young son Steven in a farm accident in 1952.
Margaret is survived by seven sons: Mark (Patty) of Volin, SD, Dave (Arlis) of Sioux Falls, SD, Randal (Mary Anne) of Little Rock, AR, Bernie (Myrna), Dan (Jean), Pat and Brian (Roxann), all of Yankton. SD; 15 grandchildren: Darin, Kevin, Jason, Haley, Luke, Christian, Katie, Matthew, Nicholas, Abigail, Paul, Elizabeth, Emily, Maxwell and Olivia; 21 great-grandchildren: Nathan, Hannah, Zachary, Kaden, Molly, Gage, Jack, Caleb, Laura, Maiya, Alex, Ben, Margaret (Maggie), Steven, Amelia, Benjamin, Kellen, Victoria, Sivelen, Owen and Jameson and countless nieces and nephews. She is also survived by a sister, Annette Menig, of Lake Stevens, WA and two brothers, Charles Modde, of Washington, D.C., and Peter.
Margaret was preceded in death by her husband, Bernard, Sr.; their son, Steven; her parents and seven siblings: Harold, Frank, John, James, Andrew, Rose and Mary.
Margaret requested memorials be directed to Sacred Heart School, 1500 St. Benedict Drive, Suite 200, Yankton, SD 57078, the Modde/Phillips Endowment at Sacred Heart Church of Yankton. 509 Capital Street. Yankton, SD 57078 or the Patrick Hunhoff Special Education Scholarship at Mount Marty College, Office of Advancement, 1105 West 8th Street, Yankton, SD 57078, which she established with proceeds from her poetry book.