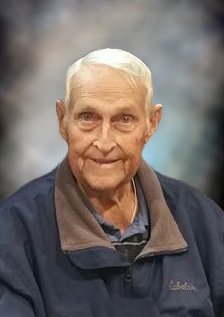 Obituary of Harold Schenkel
Harold Alvin Schenkel was born November 12, 1936 in Yankton, South Dakota to Alvin and Stella (Kaiser) Schenkel. He was raised in rural Lesterville where he attended a one-room country school. He attended school through the 8th grade where he stopped his education to help on the farm. He enlisted in the United States Army in 1955. He went to bootcamp at Fort Riley and was then stationed in Germany for two and a half years. He received his Honorable Discharge from the military in December of 1957.
On August 9, 1960 he married Mary Borszich at St. John the Baptist church in Lesterville. After their marriage, he worked for Bill Buska in residential construction. He then took a job with the railroad, delivering fish and supplies for Joe's Substation. He then returned to residential construction with the Paulsen Brothers which then lead to him branching out on his own. He started Metal Building Systems (MBS) with Joe Fry from Sioux City, Iowa. He bought part of MBS and worked there from 1982 until 2001. He retired early in 2001 after suffering a stroke.
Harold had many hobbies. In his earlier years, he loved to take his family on vacations and camping. The motorhome is what the family would take with them everywhere. He enjoyed going fishing and hunting. His passion was woodworking. In his later years following retirement, he spent time in his shop making picture frames or whatever was requested from him.
Harold is survived by his wife, Mary (Borszich) Schenkel of Lesterville; two children: Jason (Lori) Schenkel of Hartington, NE and Melanie (Patrick) Maher of Sioux Falls, SD; six grandchildren: Matthew, Dylan, Morgan, Andrea, Ashley, and Alexander; four great-grandchildren: Riley, Braxton, Alice, and Louis; nieces, nephews, other relatives and friends.
He was preceded in death by his parents; his sister and brother-in-law, Dulcie and Vernon Thranum; his brother and sister-in-law, Donald and Marilyn Schenkel; and his grandparents.
To send flowers to the family or plant a tree in memory of Harold Schenkel, please visit Tribute Store