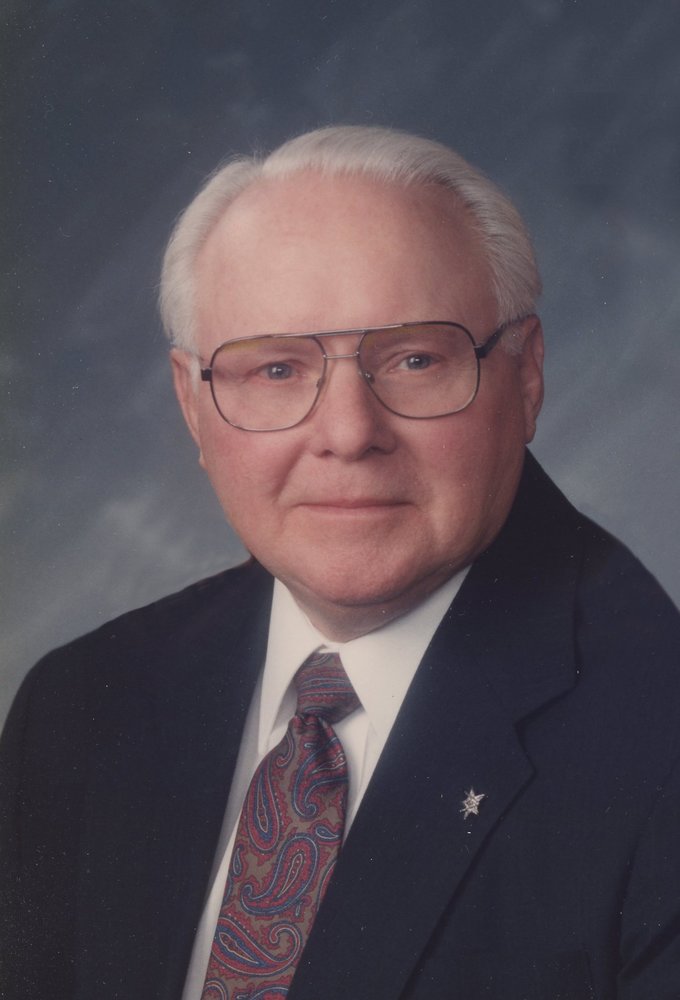 Obituary of Jerry M. Shade
Jerry was born June 6, 1921 at the Shadeland Hereford farm, one mile north of Kingsley, Iowa to his parents, George M. and Evelyn (Marshall) Shade.
Jerry attended grade school at Kingsley during the dry 30's. In 1932, Jerry's parents decided to have a farm sale and bought a grocery store in Calumet, Iowa. He graduated from Calumet High School in 1938. World War II began while he was attending the University of South Dakota and Jerry decided to enlist in the US Air Corps in March of 1942. Yellow fever and reactions from the medicine kept him in the hospital for months. Being in very poor health, Jerry was given an Honorable Discharge and became eligible for full GI benefits.
When Jerry's health improved, he moved to Chicago and worked as a turret lathe operator, making parts for B-29 bombers. On October 12, 1944 he was in an airplane training flight when the plane caught fire in the air. It was a miracle he survived the fire and crash, but sadly his flight instructor was killed. He was in a cast for five months. Just ten short months after his recovery, Jerry got a job as a high school teacher in his home town of Calumet and volunteered as a Boy Scout leader.
Jerry married Valeria (Knock) Shade in Davis, SD December 15, 1946. The family moved to Fort Collins, CO where he received his Bachelor of Science Degree from Colorado State; as well as serving in the Colorado National Guard for two years. His first job after graduation was in Pickstown, SD before moving to teach in Baltic and Hartford. In 1957, they moved to Ogden, UT where he taught Industrial Arts in the Ogden City Schools until his retirement. Jerry was a very active member of the Ogden, Trinity Presbyterian Church and Eastern Star and Masonic Lodge. After their retirement, Jerry and Val enjoyed traveling in their motor home and spending time with family and friends. They often spent winters in Quartzsite, Arizona. Jerry and Val moved to Yankton, SD in 1995. They were active members of Yankton Peace Presbyterian Church. Jerry and Val enjoyed their years in Yankton and cherished all the friends they made.
Survivors include his sons: Kim Shade of Medora, ND and Alan (Karen) Shade of Davis, SD; grandchildren: Carie (Mike) Reichert of Dickinson, ND, Travis Shade of Albuquerque, NM, Audra (Johnathan) Stanley of Dickinson, ND and Courtney Shade of Sioux Falls, SD; great-grandsons: Aydan, Quincy and Daine Rome, Tanner Harrison; great-granddaughters: Hadley Reichert and Finnley Stanley; Diane Knowles, mother of Carie, Travis and Audra; four nieces: Sondra (Frank) Stickney of Elk Point, SD, Sheran Cramer of Omaha, NE and Judith (Steve) Bates of Omaha, NE, Laurie (Dean) Shade-Neff of Las Cruces, NM; one brother, Robert Shade of Las Cruces, NM; and many other relatives and friends.
Jerry was preceded in death by his wife, Valeria Knock on September 22, 2009.
To send flowers to the family of Jerry Shade, please visit Tribute Store
Visitation
5:00 pm - 7:00 pm
Tuesday, November 6, 2018
Centerville United Church of Christ
700 Main Street
Centerville, South Dakota, United States
Also for one hour prior to service time on Wednesday.
Funeral Service
10:00 am - 10:45 am
Wednesday, November 7, 2018
Centerville United Church of Christ
700 Main Street
Centerville, South Dakota, United States
At Rest
12:45 pm - 1:00 pm
Wednesday, November 7, 2018
Hurley Cemetery
Hurley
Hurley, South Dakota, United States