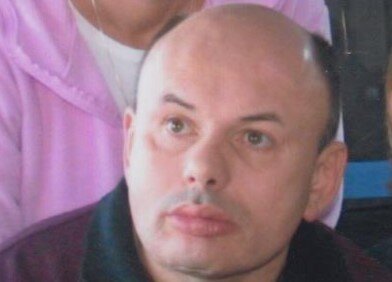 Obituary of John Lloyd Lucas
Please share a memory of John to include in a keepsake book for family and friends.
John Lloyd Lucas, age 57 of Yankton, SD passed away on Friday, October 22, 2021 at Avera Sister James Care Center in Yankton. A funeral mass will be at 10:30 a.m. Friday, October 29, 2021 at St. Benedict Catholic Church with the Rev. Fr. Thi Pham and Deacon Sylvan Thoene officiating. Burial will follow in Sacred Heart Cemetery. Visitation will be 5 to 7:00 p.m. Thursday, October 28 with a 7:00 p.m. holy rosary and vigil service to follow at Opsahl-Kostel Funeral Home and Crematory. There will also be visitation for one hour prior to mass time at the church on Friday. Online condolences may be made at: www.opsahl-kostelfuneralhome.com. Arrangements are under the direction of Opsahl-Kostel Funeral Home and Crematory in Yankton.
John Lloyd Lucas, the son of Lloyd and Darlene (Thoene) Lucas was born on January 17, 1964 at Yankton, South Dakota. He was baptized at Sacred Heart Church and lived in Yankton until he was thirteen, and then lived in Redfield until returning to Yankton in 2007 and lived at the A.B.S. home until his passing.
John enjoyed going for rides, old cartoon movies, his strobe light, pontoon boat rides, music, his rocking recliner, ice cream and French fries. He never spoke a word, but he knew how to communicate his needs with smiles and actions. John was a member of ERTH, the Ecumenical Religious Training for the Handicapped.
He will be greatly missed by his mother, Darlene Lucas of Yankton; his sisters, Sue (Jan) Odens, Dianne (Kurt) Johnson, and Roxanne (Tom) Frick, all of Yankton; eight nieces and nephews: Nick (Janet) Odens, Kelsey (Joey) Pleese, Brian (Krista) Odens, Dusty (Britini) Johnson, Mike (Lacey) Johnson, Jessica (Blake) Vela, Savannah and Austin Frick; fifteen great-nieces and nephews (soon to be seventeen); other relatives and friends.
John was preceded in death by his father, Lloyd Lucas in 2008; and by his grandparents, Nick and Martha Lucas and John and Rose Thoene.
To send flowers to the family or plant a tree in memory of John Lucas, please visit Tribute Store