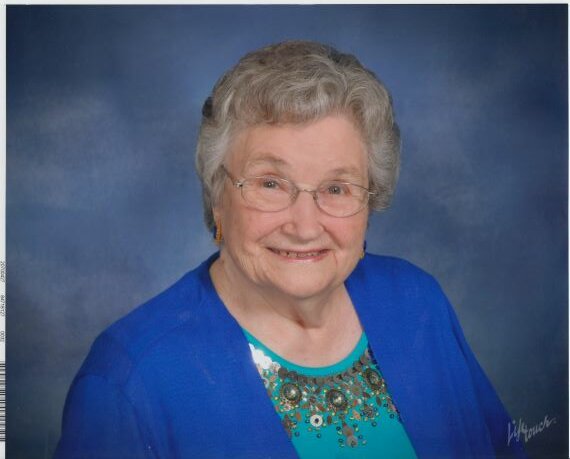 Obituary of Irene M. Kocer
Please share a memory of Irene to include in a keepsake book for family and friends.
Irene M. Kocer, age 94 of Tabor, SD passed away on Friday, August 27, 2021 at Avera Sacred Heart Hospital in Yankton, SD. A funeral mass will be at 9:30 a.m. on Monday, August 30, 2021 at St. Wenceslaus Catholic Church in Tabor with the Rev. Fr. Mark Lichter as Celebrant. Burial will follow in the parish cemetery. Visitation will be from 5 to 7:00 p.m. with a 7 p.m. vigil service and holy rosary on Sunday, August 29 at Opsahl-Kostel Memorial Chapel. There will also be visitation for one hour prior to service time on Monday at the church. A live stream of Irene's service may be found at https://www.facebook.com/opsahlkostel/live. Online condolences may be left at: www.opsahl-kostelfuneralhome.com. Masks are welcome but not mandatory, please judge accordingly with your personal comfort level. Arrangements are under the direction of the Opsahl-Kostel Memorial Chapel in Tabor.
Irene began her journey on January 13, 1927, on the farm of her parents, Stiny Carda and Agnes (Schuch) Carda, north of Tyndall, South Dakota. Irene was born the 7th of 8 girls. To say her young life was interesting would be an understatement. There were encounters with high water, grasshopper infestations, the dust bowl years, almost drowning only to be saved by her sister Vincie and living near a bombing training site during World War II. From all this, Irene learned to enjoy family gatherings, cherish friends and respect the life God gave her.
Irene attended Independent #2 Country School for 8 years, Springfield High School for 4 years, and continued her education at Southern State Teachers College in Springfield where she attained her teaching certificate. She began her teaching career at the McCrea School District and then continued at the Grail School District #25 before starting a family.
Irene's first date with Raymond Kocer was at the Czech Days celebration (a ride on the Ferris Wheel) in Tabor, South Dakota. Irene and Ray were united in marriage on June 12, 1945, at St. Wencelaus Catholic Church in Tabor. Irene and Ray raised a family of 3 boys and 3 girls while being God's servants and caretakers of the land. Farming gave Irene a chance to be outdoors while cultivating corn, making oats shocks, unloading ear corn, chasing cattle; well, no one said it would be easy. Irene and Ray retired from farming in 1993 and moved to Tabor. Both Irene and Ray worked hard and played hard; and oh, how Irene loved to dance. Irene found the reward she most graciously deserved while planting the seeds of life and harvesting the joys of family.
Enjoying working with people and being around people, Irene worked various places in Tabor including Chytka's Market, where she greeted every person with a smile. Working at the Czech Inn Supper Club from 1976 to 1982 and CorTrust Bank from 1982 to 2000, helped her continue her love of serving others. Irene belonged to the St. Wenceslaus Catholic Church, the Altar and Rosary Society, the Tabor Chamber of Commerce, the Tyndall Good Samaritan Guild, and the local retired teachers' organization, and found time to teach religious education classes fofseveral years. While never having a lot of money, Irene always felt she was rich in so many other ways.
Irene continued to amaze us in her 80's and 90's with her math abilities, being able to calculate (by hand) the cost of her weekly grocery list within 5%. She participated in our family NCAA basketball pool always picking Duke because of her idol, Coach K. She enjoyed crafts and crocheting, playing cards and games, baking kolaches, baking and decorating cakes, and making lots of goodies for her family and friends.
Irene's love of her life was her family and faith in God. She enjoyed attending all her children's and grandchildren's and lastly her great grandchildren's activities. Irene will be remembered for her warm smile, compassionate heart, extreme generosity, and love and life.
Grateful for having shared her life are her 6 children:
Larry (Carol) Kocer of Yankton, SD; Robert (Kathy) Kocer of Cedar Rapids, IA; Kathy (Craig) Hiemstra of Bartlesville, OK; Ken (Rhonda) Kocer of Tabor; SD, Karen (Ken) Ranek of Tyndall, SD; Kristi Kocer of Tabor, SD.
18 grandchildren and step-grandchildren:
Kimberly (Joel) Kennedy, Tyler (Stephanie) Hiemstra, Brooke Hiemstra, Jonathan Hiemstra, Nathan Hiemstra, Preston (Lauren) Hiemstra, Dillon Hiemstra, Mark (Leslie) Ranek, Scott (Julie) Ranek, Kayla (Mike) Kralovec, Lance Ranek, Brian (Jorja) Fejfar, Steve (Shelly) Fejfar, Julie Hall, Mike (Jenny) Hall, Samantha (Christhoph) Weismayer; Mike Hein, Mindy WIttmer.
26 great grandchildren and step-great-grandchildren:
8 step-great-great-grandchildren
10 Godchildren
Irene was preceded in death by her husband Ray in 2011, daughters-in-law June (Petersen) Kocer and Judy (Hein) Kocer, step-granddaughter Susan Fejfar, and step-great-grandson Tyler Fejfar.
When Irene passed away, she was the last of the Carda sisters and their spouses: Nettie Carda, Mary (Jerry) Cap, Ann (Bud) Ulmer, Vincie (Henry) Adam, Agnes (George) Kocer, Betty (Sylvester) Kocer, Alice (Tony) Rotchadl.
To send flowers to the family or plant a tree in memory of Irene Kocer, please visit Tribute Store