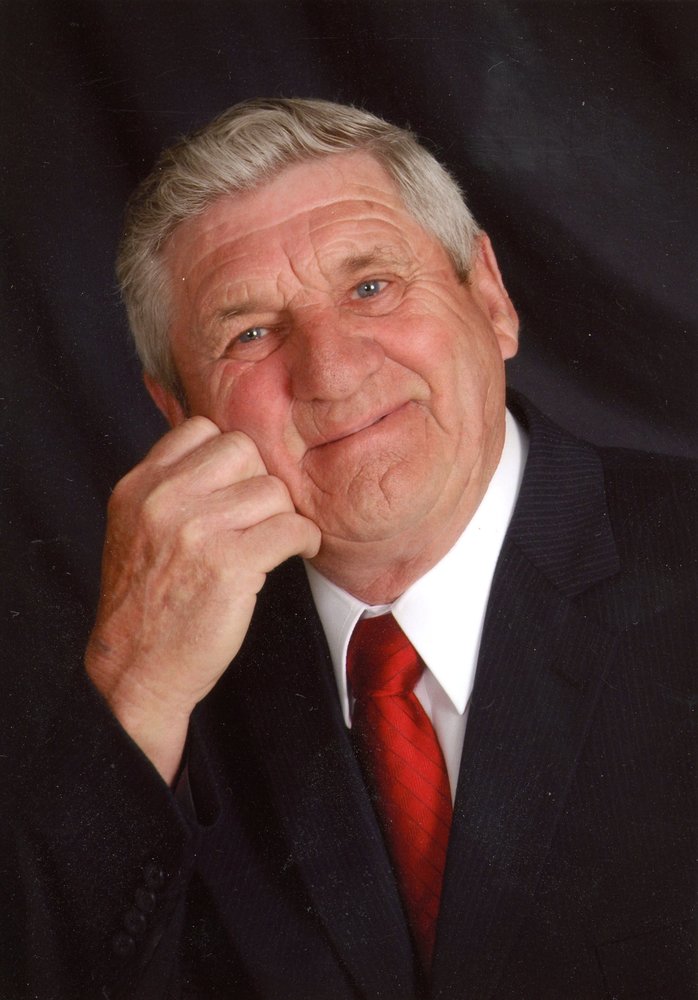 Obituary of Milo J. Hauck
Please share a memory of Milo to include in a keepsake book for family and friends.
Milo J. Hauck, age 81 of Menno, SD passed away on Wednesday, June 9, 2021, at Dougherty Hospice House in Sioux Falls, SD. Memorial services will be 11:00 AM, Monday, June 14, 2021, at Salem Reformed Church, Menno, SD with Rev. Michael Hecht officiating. Private family burial will be in the Menno Cemetery, Menno, SD with Military Graveside Rites by the Rames-Bender American Legion Post # 152. Visitation will be 5 to 7 PM, Sunday, June 13, 2021, at Salem Reformed Church, Menno, SD with a prayer service at 7:00 PM. Live streaming of Milo's service can be found at: https://www.facebook.com/opsahlkostel/live. Online condolences may be sent at: www.opsahl-kostelfuneralhome.com. The Aisenbrey-Opsahl-Kostel Memorial Chapel, Menno, SD is assisting with the service details.
Milo J. Hauck was born on May 22, 1940 to August J. and Magdalena (Koerner) Hauck in Hutchinson County on the family farm 10 miles southeast of Menno, SD. He was the 10th of 11 children. He was baptized at the Saron Reformed Church on July 7, 1940 and confirmed at Salem Reformed Church in 1954. He attended Morning Star Country School #67 through the 8th grade and graduated from Menno High School in 1958. Volunteering for the draft, Milo was called to serve in January 1960. After completing his training as a Construction Machine Operator, Milo was shipped to Germany for his tour of duty. Being fluent in German, he often served as an interpreter for his commanding officer. After two years of service to his country, Milo returned home to pursue his lifelong dream of owning the family farm. In the early 1980s, he began the monumental task of building his own home on the family farm. He completed the basement and lived there while he continued construction on the rest of the house.
On March 16, 1990, Rev. Leon Schulz married Milo and Marilee Huber at Grace Lutheran Church. With Marilee by his side, Milo finally moved up from the basement into the finished home. Marilee and Milo farmed together for 20 years before moving to Menno in 2010.
Farming was Milo's passion. On the farm, he raised hogs and cattle, grew soybeans and corn, and especially loved having cats and kittens running around. Milo loved playing pool, eating chislic, and pulling pranks You could often find him searching for deals at an auction or at his happy place, Menards. Milo had many collections, bicycles, lawn mowers, AC tractors, you name it. One of his greatest joys in life was when the grandchildren would visit the farm. He loved taking them for rides in the tractor or on the four-wheeler. Once he retired, Milo was often seen visiting with his brother Verlyn in the middle of 2nd street.
Milo is lovingly remembered by his wife Marilee; his step-daughter Glenda Walker of Clear Lake, SD; his step-grandchildren Danielle (Jayme) Schaaf of Colorado Springs, CO; Brittany Book of Colorado Springs, CO; McKinsey (Jake) Haider of Seaside, CA; and Noah Walker of Vermillion, SD; his step-great grandchildren Madeleine, Beau, Grant Schaaf, and Augustine Haider; his brothers Verlyn (Sharon) Hauck and Larry (Marilyn) Hauck; his sisters Verletta Kaufman and JoAnn (Don) Frasch; his sisters-in-law Florence Hauck and Arlena Hauck; and many nieces and nephews.
Welcoming Milo into Heaven are his parents August J. and Magdalena (Koerner) Hauck; his sisters Viola (Melford) Maas, Luella (Lloyd) Haarberg, Eleanora (Randy) Quast; his brothers Raymond Hauck, Alfred Hauck, and Clarence Hauck.
Throughout Milo's life, he felt the absence of his mom. She passed away from surgical complications when he was 5 years old and he always looked forward to reuniting with her in heaven.
Memorials preferred.