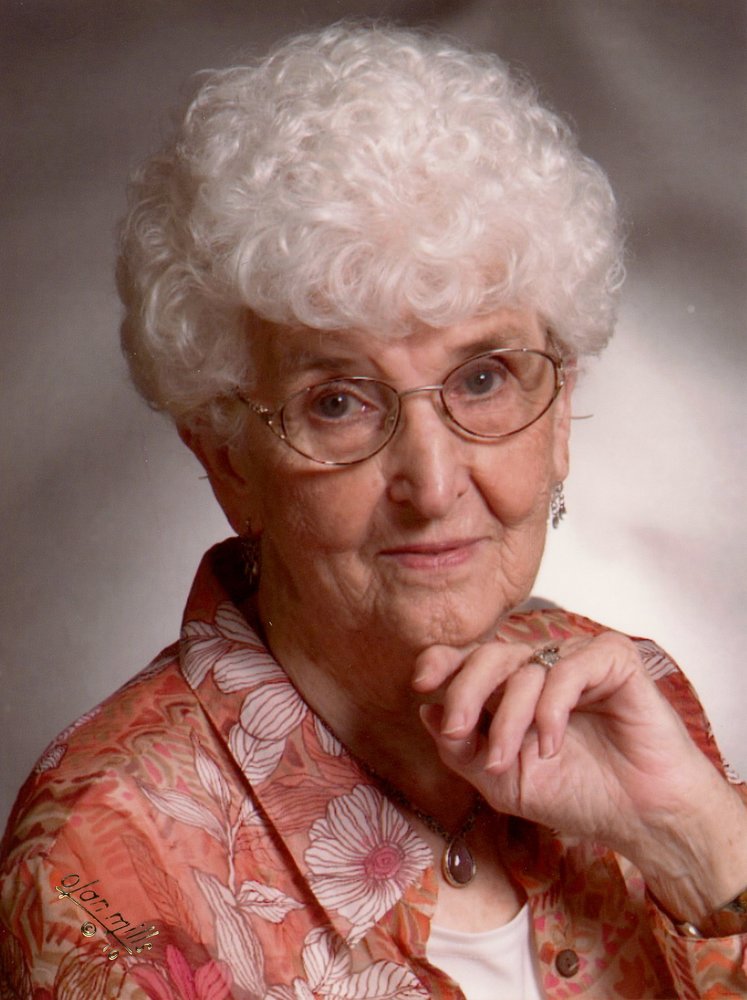 Obituary of Constance O. Kendall
Constance was born August 8, 1922 to Gustav and Albertina (Haugan) Nysveen on a farm near Volin, SD. She grew up in the Marindal area and received her eighth grade education at Country School #28 West Prairie. She graduated from high school in May 1940 in Volin, SD. Her favorite sport in grade school was playing softball and always played as catcher. She was always able to catch the fast balls bare handed. The school could only afford two gloves and they were for the pitcher and the outfielder. In eighth grade she was chosen to play as a catcher on the Yankton County Girls Softball League which was played in Yankton. In the fall of 1940, Connie was the fifth runner up in the Harvest Queen Contest sponsored by the merchants in Yankton. A stage presentation and program was held for the five girls at the Yankton High School auditorium.
Connie worked at Scotts 5&10 Store and Montgomery Wards in downtown Yankton. Connie married Charles W. Kendall in Yankton on September 27, 1942. He entered the U.S. Army Signal Corp on November 11, 1942. Connie was able to be with him while he was stationed in the United States. She saw and traveled to many different cities along the East and Southern states. While traveling, she worked at numerous jobs: Montgomery Wards in Trenton, NJ, Hoisery Mill in Crewe, VA and several variety stores. Connie and her husband became members of Trinity Lutheran Church after his discharge from the service as a Tec Sgt. On May 12, 1947 a baby boy was born to this union named Jerry Charles Kendall. For many years, Connie was a wedding receptionist at Trinity Lutheran and chairmen of Naomi Circle for many years. She belonged to the Disabled American Veterans Auxiliary, America Legion and the VFW Auxiliary. Connie was also an active member of the Sons of Norway Lodge, proud of her Norwegian heritage because both her parents came from Norway and were married here in the U.S.
Connie was a faithful helper in her husband's businesses. She was a wonderful baker and known for her Sand Bakkals cookies, cinnamon rolls and her lemon pie.
Connie is survived by her son, Jerry (Cheryl) of Rapid City, SD; sister, Hazel Landman of Sioux Falls, SD, three grandchildren: Jeremy Kendall of Vermillion, SD and Jeffery Kendall of Rapid City, SD and Jenny (Russ) Werner of Parker, CO; four great-grandchildren: Emma Werner, Hadessah Kendall, Beniah Kendall and Miriam Kendall and many nieces and nephews.
Connie was preceded in death by her parents; husband, Charles in 2005; son, Richard Allen, infant children and premature twin girls; sisters, Helga Nysveen, Louise Nysveen Jorgenson and Gladys Nysveen Bergstrom; brothers, Oscar, Harold, Carl and Iver, infant baby boy, Glen; sisters-in-law, Ruth Healy (Harold) and Ethel Lucas (Carl); brothers-in-law, Merlin Jorgenson (Louise) and John Bergstrom (Gladys) and one nephew, Edward Bergstrom.
To send flowers to the family of Constance Kendall, please visit Tribute Store
Visitation
9:30 am - 10:30 am
Friday, July 12, 2019
Trinity Lutheran Church (Yankton)
403 Broadway St
Yankton, South Dakota, United States
605-665-7415
Funeral Service
10:30 am - 11:00 am
Friday, July 12, 2019
Trinity Lutheran Church (Yankton)
403 Broadway St
Yankton, South Dakota, United States
605-665-7415
At Rest
11:30 am - 11:45 am
Friday, July 12, 2019
Garden of Memories
2901 Douglas Ave.
Yankton, South Dakota, United States
6056653645