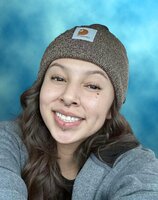 Destinee Anne Tuttle
TUTTLE DESTINEE
Destinee Anne Tuttle, age 20 of Fargo, ND and formerly of Santee, NE died January 1, 2023 as a result of an accident. Funeral services will be 12:00 PM, Monday, January 9, 2023 at the Oyate Oyanke Community Center, Santee, NE with Sidney Tuttle, Sr. officiating. Burial will be in the Hobu Creek Cemetery, Lindy, NE. Visitations will begin Friday evening and continue until the service time on Monday. There will be Prayer services each evening at 7:00 PM at the Oyate Oyanke Community Center, Santee, NE. The Opsahl-Kostel Funeral Home & Crematory, Yankton, SD is assisting with the service details. Online condolences may be sent at: www.opsahl-kostelfuneralhome.com.
Destinee Anne Tuttle (Kimimina Waste Win), was born August 9, 2003 to Christina and Byron in Yankton, SD. Destinee attended elementary in Niobrara before she transferred to Santee and eventually attended High School at Flandreau Indian School. She graduated high school from Santee Community School in May 2021.
Destinee has always been a hard worker. She was only 14 years old when she started working for the SSN Summer Youth Program. She worked various jobs including working as a ranch hand, Feather Hill, Walmart and was currently employed at Dakota Magic Casino as a blackjack dealer.
Destinee cherished her family and took part in the upbringing of her younger siblings. She had a witty sense of humor, free-spirit and was a good storyteller. Destinee has always had a love for animals, especially her puppies and horses. She participated in many horse rides, which made her family very proud. Destinee met the love of her life, Mongeska, on one of the rides and they got engaged in 2021. She danced at the Oyate Ob Mawani Sundance. Destinee will be remembered most for her dimples and her smile that could light up any room.
Destinee has the best personality and will remain in our hearts always and forever. She is very much loved and will be greatly missed. Destinee is preceded in death by her angel baby; her fur baby, Haze; her sister, Cierra; her grandfather, Dale; her cousin, Ta Woniya Wakan; her great-grandmother, Hazel; her great-grandmother, Anne and her great-grandfather, Harold. Left to mourn are her sisters, DJ, Everleigh, Mahpiya, Jeanaie, Catalayah, Aubrinee, Tierahnee and Annaliese; brothers, Teivion, Teison and Isaiah; parents, Christina (AJ), Byron (Christina), grandftather, Jim (Della) and Grandmother Mikki.