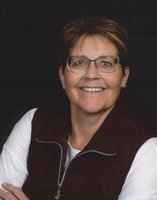 Linda Hoesing
Hoesing, Linda
Linda Hoesing, age 63, passed away on Friday, November 4, 2022, at her home in Yankton. Mass of Christian burial will be 10:30 AM, Wednesday, November 9, 2022 at the Sacred Heart Catholic Church, Yankton, SD with Rev. Bob Lacey officiating. Burial will be in Harrold, SD on Thursday, November 10 at 1:30 PM. Visitation will be 5 to 7 PM with a 7 PM scripture service, Tuesday, November 8, 2022, at the Opsahl-Kostel Funeral Home & Crematory, Yankton, SD. Online condolences may be sent at: www.opsahl-kostelfuneralhome.com. Live streaming of Linda's services can be found at: https://my.gather.app/remember/linda-hoesing.
Linda Ann (Brown) Hoesing was born to Arthur "Archie" and Delores (Lettau) Brown on July 25th, 1959 in Onida. SD. She spent her childhood at their family ranch in Hyde County. There her love of the outdoors and animals took root. Each pet was lovingly called and remembered by name.
After graduating high school in Highmore, SD, Linda attended Black Hills State in Spearfish, SD. From there she married and was blessed with her two daughters, Andrea and Bethany Broderson. She worked at The University of South Dakota's Law School and spent the majority of her 25+ years working at USD Head Start.
Linda met and married Darrell Hoesing where their families blended to add Stephanie, Theresa, and Jill. Their family grew again in May of 2000 when they welcomed their son Colin. That same year Darrell and Linda moved to the Hoesing family farm where they lived until 2018. January 13th of 2012 Darrell and Linda were married in the Catholic Church. Linda worked beside Darrell on their farm, as well as, at Avera Hospital in Yankton until 2022.
Linda was a faithful and devout Catholic, praying the rosary daily. She adored her many grandchildren and especially loved celebrating Easter and Thanksgiving with her family. Linda's love for the outdoors and animals started at her family's ranch and continued throughout her life. Linda could always find humor and the silver lining in life. She loved to laugh and knew every George Strait song by heart. She was always incredibly humble and a thoughtful friend.
Linda is lovingly remembered by her husband Darrell Hoesing; her children Andrea (Braden) Junker of Canton, SD, Bethany Broderson and friend (Kip Dowling) of Sioux Falls, SD, Colin Hoesing and fiance (Katelyn Krause) of Hartington, NE, Stephanie Hyde of Sioux Falls, SD, Theresa (Matt) Tripp of Worthington, MN, and Jill (Andy) Rodarte of Sioux Falls, SD; grandchildren David and Charlotte, Isabel and Lucas, Hunter and Zoey, and Kate, Mara, and Sadie; mother-in-law Rita Hoesing of Fordyce, NE and her brother Phil Brown of St. Cloud, MN.
She was preceded in death by her parents Arthur and Delores Brown; father-in-law Dellano Hoesing and mother-in-law Mary Hoesing.