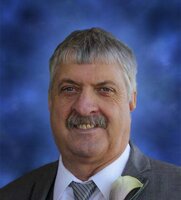 Scott Jurrens
Scott Russell Jurrens, 67, died peacefully at his home in Yankton, SD on Monday October 24th.
Memorial services will be held November 12 at 10:00 am (with family greeting at 9:00 am) at Heritage Funeral Home in Sioux Falls, SD. Lunch will be provided after the service and a burial following lunch at Woodlawn Cemetery.
Survivors include his son John (Theresa) Jurrens of Sioux Falls, 3 grandchildren, Macy, Allison and Jack; brother Chris Jurrens of Yankton, SD; father-in-law, Robert Drevecky of Watertown, SD and many nieces, nephews and cousins.
He was preceded in death by his wife, Marilyn and parents Russell and Greeta.
---