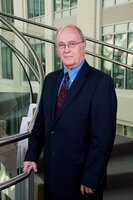 Frederick Hejl
HEJL FREDERICK
Frederick D. Hejl, age 77 of Gaithersburg, MD and formerly Tabor, SD, passed away unexpectedly on July 23, 2022. Memorial services will be at 10:30am on Saturday, October 29, 2022, at St. Wenceslaus Catholic Church, Tabor, SD with Rev. Joe Forcelle officiating. Visitation will be one hour prior to the service at the church. Arrangements are under the direction of the Opsahl-Kostel Funeral Home and Crematory of Yankton. Online condolences may be sent at: www.opsahl-kostelfuneralhome.com. Live streaming of his service can be found at: https://my.gather.app/remember/frederick-hejl.
Frederick 'Fred' D. Hejl was born October 12, 1944 to Fred and Evelyn (Kotalik) Hejl, the second oldest of five and the oldest boy. He was an active member of the community as a boy scout and alter boy at St. Wenceslaus Catholic Church and Valedictorian of the 1962 graduating class of Tabor High School. He received his Bachelor and Master of Science in Civil Engineering from South Dakota State University and was an instructor at the university upon graduation.
Fred was a Lieutenant Junior Grade with the United States Navy during the Vietnam war serving in Vietnam, the Philippines and Guam. He was presented a meritorious service medal while serving with the United States Naval Mobile Construction Battalion Three for his role as the Operations Officer in charge of managing the construction missions of 22 details spread throughout Vietnam. Fred was a proud member of the Tabor American Legion Post 183 for 50 years.
Upon leaving the military, Fred returned to the states and met the love of his life. Myra S. Hejl and Fred were joined in marriage on June 19, 1982 and welcomed their daughter Courtney a few years later. He was the ultimate family man, provider, and role model. He never missed a dance performance in over 20 years and was doting caregiver to his wife during her 8-year heroic battle with cancer.
Fred spent 27 years as a Research Engineer with the National Academies of Sciences Transportation Research Board in Washington, DC. His job enabled him to travel to all 50 states working with each state's Department of Transportation. From 1994 to 2007, he was a member of the TRNews publication and served as Chair of the TRNews Editorial Board from 2007 to 2016, a publication that was highly accredited amongst Civil Engineering peers. In 2011, Fred received the coveted Individual Distinguished Service Award from The National Academies. He took pride in his job and even though he retired in 2016, his legacy and the policies and publications that he created remain intact today.
In his free time and retirement, Fred enjoyed reading John Grisham and David Baldacci books, putting together puzzles and landscaping. During his marriage to Myra, they owned 14 Yorkshire Terriers that he loved dearly, and the remaining 5 dogs miss playing with him and cuddling with him at night. He had a strong Catholic faith and never missed a Sunday service even during COVID and his time in the hospital. He enjoyed watching John Wayne western movies and never missed an episode of Jeopardy.
Fred was an accomplished man who never comprehended the impact he had on those around him. He was humble and reserved with a dry sense of humor. To really know him was an honor.
Left to cherish is memory are his daughter Courtney (Dan) Melvin of Palmyra, VA, his sisters: Loretta (Robert) Kortan and Mary Ellen Bares of Tabor and his brothers: Len Hejl of Yankton and Ken (Sharon) Hejl of Brandon.
Fred was preceded in death by his wife, Myra, his parents, Fred and Evelyn Hejl, brother-in-law George Bares and sister-in-law Lea Hejl.