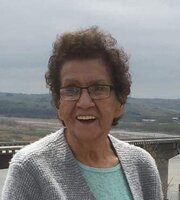 Rita White
White, Rita
Rita A. White, age 77 of Hartington, NE and formerly of Santee, NE passed away on Sunday, September 11, 2022 at Arbor Care Center in Hartington. Funeral services will be 2:00 p.m. Thursday, September 15, 2022 at Oyate-Oyanke Community Center in Santee, NE with Roger Trudell and Sam Kitto officiating. Burial will follow in the Congregational Cemetery at Santee.
Visitations will be Monday, Tuesday, and Wednesday, September 12, 13, and 14, at Oyate-Oyanke Community Center with a 7:00 p.m. prayer service each evening. Online condolences may be made at: www.opsahl-kostelfuneralhome.com. The Opsahl-Kostel Funeral Home and Crematory of Yankton, SD is assisting the White family.
Rita Ann White was born January 26, 1945 in Omaha, NE to Jim and Mary Rose Brown. She received her Dakota name, Wakanhdi Tokahe Win.
She grew up in the South Bottoms of Sioux City, Bazille Creek, and the hills of Santee. In her 20's she met the love of her life, Stanley White. They were together for many years and united in marriage in Las Vegas, Nevada at the Little White Chapel. In their love they had their sons, Robert "Bubby", Stanley "Iron Boy" Jr., Bianco "BL" White Sr. and Jeff Brown. She enjoyed working a the Santee Nutrition Center as head cook, she loved to feed and care for everyone.
She had a huge part in raising her grandchildren and many others. She loved to be called grandma and auntie, even if she wasn't related. She never sugar coated anything, she always told you how it was. She was one tough and strong woman. She showed and gave love to everyone. Everyone loved and respected her.
Rita is survived by her brother Jim (Pam) Brown, her sons: Iron Boy and BL White. Many grandchildren, great-grandchildren, nieces, and nephews.
She is preceded in death by her parents, Jim and Mary Rose (Trudell) Brown, her brothers, Robert, Joseph, Wilbur, and Keith Brown, Harold "Maka" LaPointe, her sisters, Roberta and Shirley Brown. Her love of her life, her husband, Stanley "Stan the Man" White.