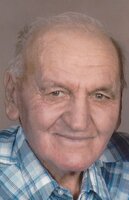 Elton Lehr
Elton Lehr, age 83 of Menno, SD passed away early Sunday, July 31, 2022, at the Scotland Good Samaritan Society, Scotland, SD. Funeral services will be 2:00 p.m. on Saturday, August 6, 2022 at Grace Lutheran Church in Menno with the Rev. Chuck Stanga and the Rev. Michael Hecht officiating. Burial will follow in the Menno Cemetery. Visitation will be 5 to 7:00 p.m. on Friday, August 5 at the church. There will also be visitation for one hour prior to service time on Saturday. Online condolences may be made at: www.opsahl-kostelfuneralhome.com. Arrangements are under the direction of the Aisenbrey-Opsahl-Kostel Memorial Chapel in Menno.
Elton Lehr was born on August 5, 1938 to Edward Lehr and Anna (Mehlhaf) Lehr at rural Menno. Elton was the youngest of four children, joining two brothers, Victor and Ervin, and sister, Verlene. Elton was baptized on September 25, 1938 and confirmed into the Christian faith on June 21, 19 at the Salem Reformed Church at Menno, South Dakota. Elton was raised at the Lehr family farm at west of Menno, South Dakota, where he would dedicate his life to raising and feeding cattle, and growing corn, oats, soybeans and alfalfa. He graduated from Menno High School in 1956 and thereafter joined the South Dakota National Guard and served with the Tripp/Parkston Unit for a few years.
Elton married Janice Marie Johnson on November 24, 1963 at Salem Reformed Church at Menno, South Dakota. Elton and Janice had one child, Kent Lehr, born in 1967. After the passing of Elton's father, Edward, in 1972, Elton, Janice and Kent moved onto the Lehr family farm west of Menno in 1973. Elton and Janice lived in the home at the Lehr family farm until 2015, when Elton and Janice moved to their next home on the south edge of Menno, which basically was a move from the west side of the Lehr farm two miles across to the east side, and technically, still lived on the farm.
Over the course of his whole life on the Lehr family farm, Elton fed cattle and farmed with his brothers, Victor and Ervin, until their respective passing. As the last surviving brother, Elton carried on with the family farm operation, sharing his vast knowledge and experience in agriculture with his son, Kent, nephews Doug and Dale, and ultimately his four grandsons, so that the Lehr farm could also provide for future generations the way of life he enjoyed.
Elton was preceded in death by his wife Janice in 2020, his parents, Edward and Anna Lehr, brother Ervin Lehr, brother Victor Lehr and sister-in-law Ruby Lehr, sister Verlene Nusz and brother-in-law Rumie Nusz.
Left to carry on Elton's legacy, are son Kent Lehr (Christy Knodel), and grandsons Dylan Lehr, Dustin Lehr, Derrick Lehr (Sara Brown), and Dominick Lehr (Kaylee Keys), great-granddaughter Amelia Lehr, his grandchildren's mother, Lorie Lehr, along with many nieces, nephews, cousins and friends.