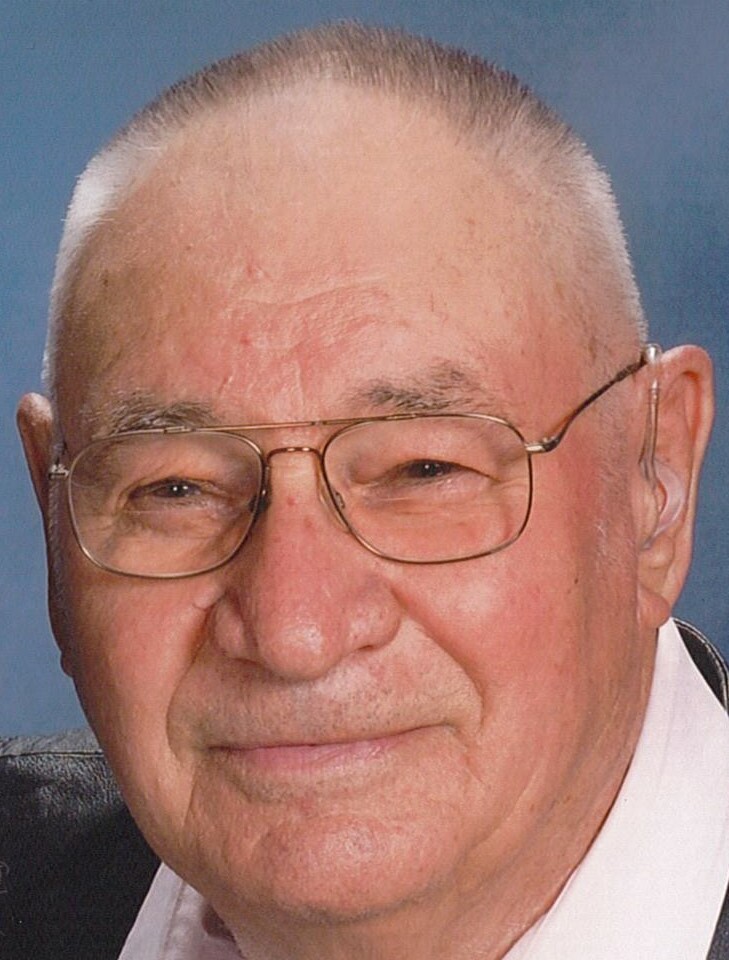 Stanley J. Varilek
Varilek, Stanley
Stanley J. Varilek, age 92 of Tabor, SD passed away on Friday, July 29, 2022, at the Good Samaritan Society, Tyndall, SD. Mass of Christian Burial will be 10:30 AM, Wednesday, August 3, 2022, at St. Wenceslaus Catholic Church, Tabor, SD with Rev. Mark Lichter officiating. Burial will be in the parish cemetery with Military Graveside Rites by the Kortan-Hatwan American Legion Post #183. Visitations will be 5 to 7 PM, Tuesday, August 2, 2022, at St. Wenceslaus Catholic Church, Tabor, SD with a Wake service at 7:00 PM. Visitations will resume one hour prior to the service at the church. The Opsahl-Kostel Memorial Chapel, Tabor, SD is assisting with the service details. Online condolences may be sent at: www.opsahl-kostelfuneralhome.com. Live streaming of Stan's service may be found at: https://my.gather.app/remember/stanley-varilek.
Stanley James Varilek, son of Paul James Varilek and Marie (Mary) Bares was born on October 23, 1929, in Tyndall, SD. He passed away early on July 29th, 2022. Stanley attended a one room country school in rural Tyndall through 8th grade; he attended one year of high school. Stanley then stayed home to help his dad farm.
In 1951, he was drafted into the USMC and served from 1951 to 1953. Stanley served during the Korean war and was stationed in Japan. Stanley married Rita Uhing on May 11, 1954, at St. Peter and Paul Catholic Church in Bow Valley, Nebraska. Together they farmed in South Dakota and Nebraska for a short time; then returned to South Dakota to a farm NE of Springfield, where Stan farmed and worked construction. In 1967 they moved to Tabor where Stan worked for Cimpl Feed & Grain until 1973. In 1974, Stan worked for the Bon Homme Highway Dept. until retiring in 1992. During retirement, Stan enjoyed volunteering at the Tyndall Good Samaritan Center Nursing Home, taking residents on van rides and on the way back, stopping at the Dairy Queen for ice cream. He worked for Joe Pechous part time on the farm for several years.
Stan's hobby was woodworking. He built nearly all the military flag cases which are on display at the Tabor American Legion Hall. He worked on many woodworking projects for people in the area, furniture, cabinets and repairs. He also built a beautiful grandfather clock.
He was a lifetime member of the Kortan-Hatwan Legion Post #183, of which he was a chaplain for many years. Stan was also a lifetime member of the VFW in Tyndall. In January 2013 he received an honorary high school diploma from the Bon Homme School District #4-2.
Stanley is survived by his wife, Rita of 68 years; 8 children Theresa (Duane) Swensen of Ida Grove, IA; Wayne (Becky) Varilek, Bettendorf, IA; Roger (Nola) Varilek, Rice, MN; Jerry (Pam) Varilek, Yankton, SD; Kathleen (Laverne) Schieffer, Tabor, SD; Dennis (Diane) Varilek, Clark, SD; Jean (Howard) Souhrada, Lesterville, SD; Kay (Larry) Tramp, Crofton, NE; 17 grandchildren, 2 step-grandchildren and 33 great-grandchildren; 3 sisters Dorothy (Craig) Smith, Evelyn (Loren) McKittrick, Adeline (James) Harris.
Stanley was preceded in death by his parents, Paul and Mary Varilek; in-laws Joseph and Ida Uhing; step mother-in-law Ann Uhing; sisters and brothers-in-law Ann and Harry Hasek and Agnes and George Horacek.
Memorial are directed to the Kortan-Hatwan American Legion Post #183; 138 N. Lidice Street, Tabor, SD 57063 and St. Wenceslaus Catholic Church, 205 N. Lidice Street, Tabor, SD 57063.