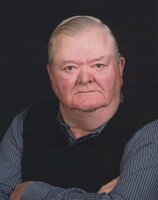 Gerald "Jerry" Law
Gerald "Jerry" Law, age 76 of Yankton, SD passed away unexpectedly Saturday, July 16, 2022, at his home. A funeral mass will be at 10:30 a.m. on Friday, July 22, 2022, at St. Benedict's Catholic Church in Yankton with the Rev. Fr. Nick Haiar as Celebrant. Burial will follow in Sacred Heart Cemetery. Visitation will be 5 to 7:00 p.m. on Thursday, July 21 at Opsahl-Kostel Funeral Home and Crematory with a Holy Rosary at 6:45 p.m. and a vigil service at 7:00 p.m. Online condolences may be made at: www.opsahl-kostelfuneralhome.com. Arrangements are under the direction of Opsahl-Kostel Funeral Home and Crematory in Yankton.
Jerry was born in Yankton on December 15, 1945 to Lloyd and Lenore (Cwach) Law. He graduated from Yankton High School in 1963. He worked in construction and farmed part time with his parents after graduation. On July 25, 1970, Jerry married Barbara Suhn and in 1972 he transitioned to farming full time with his parents west of Yankton. He was a third generation farmer, growing corn and soybeans and feeding livestock. When his parents retired and moved to Yankton in 1982, the family moved to the farm west of Yankton. His dream was always to feed cattle and he was able to progressively expand the feedlot over the 50 years of operation. He always enjoyed having his grandchildren visit the farm. Jerry and Barb moved off the farm in December 2021.
Jerry was a member of St Benedict's Catholic Church and the Yankton Elks Lodge.
Jerry is survived by his wife Barbara; three children: Stephanie, Jonathan(Chelsea), and Jacob, two grandchildren Treyton and Kyra, his brothers Bob(Mary Kaye) and Dan(Renee), sister and brothers in law Jerry(Sharon) Suhn, Vern(Vicki) Suhn, Dale(LeAnn) Suhn and Kathy Marsden, and many nieces, nephews, and cousins.
Jerry is preceded in death by his parents Lloyd and Lenore Law, and Ernest and Loretta (Werdel) Suhn Jr., and brother-in-law Bill Marsden.
Jerry, a dedicated Husband, Dad, Grandpa and friend, will be greatly missed.
Memorials may be made to St. Benedict's Catholic Church or charity of choice.