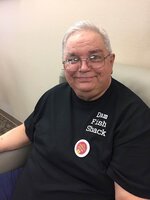 James H. "Jim" Juffer
James H. Juffer, the son of Harry and Letha (Flynn) Juffer, was born on December 8, 1945 in Yankton, SD. He was baptized and confirmed in the Catholic faith and served as an altar boy while growing up.
The family moved to Sioux Falls for a time and then returned to Yankton. Jim attended Sacred Heart School, and later Mitchell Vocational Technical School where he earned his GED. He then enlisted in the U.S. Army, serving his country from 1966 to 1969, first in Ft. Bragg, NC and then in Vietnam.
Upon his discharge from the armed services, Jim began his working career with the South Dakota Human Services Center, and then later went to work for Kolberg Manufacturing and was there until his retirement in 2001.
Jim was united in marriage to Shirley Evenson on August 24, 1991 in Yankton and the couple lived in Yankton and then Gayville and then back to Yankton. Their free time was spent traveling to the Black Hills to the Sturgis Motorcycle Rally, to Omaha, NE, as well as to the states of Indiana, California, and Colorado. They always attended the Brickyard 400 and Indy 500 races when in Indiana. Their most memorable trip was an Alaskan cruise to mark their 15-year anniversary. They celebrated thirty great years together.
He was an avid reader and enjoyed keeping current on news and sporting events on television.
Jim was a member of the American Legion DAV, and a lifetime member of the VFW.
Left to cherish his memory are his wife, Shirley Juffer of Yankton, SD; two brothers, Tom (Mary Jo) Juffer of Yankton, SD and Chuck (Susan) Juffer of Indianapolis, IN; two sisters, Nadine Kleinschmidt of Omaha, NE and Corrine (Jeff) Sellberg of Huntington Beach, CA, one sister-in-law, Gloria Evenson of Yankton, SD; several nieces and nephews; and his very best friend, Donald "Doc" Miller.
Jim was preceded in death by his parents; one brother, Robert; and one brother-in-law, Francis Kleinschmidt.