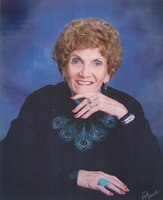 Phyllis Christiansen
Phyllis Christiansen
Phyllis Marian (Brewer) Christiansen, 93, of Yankton, SD passed away Friday, May 13, 2022, after a brief stay at Avera Sister James Care Center. Funeral service will be 10:30 AM, Monday, May 16, 2022, at the United Church of Christ (Congregational), Yankton, SD with Jerry Webber officiating. Burial will be in the Garden of Memories, Yankton, SD. Visitations will be 5 to 7 PM, Sunday, May 15, 2022, at the Opsahl-Kostel Funeral Home & Onsite Crematory, Yankton, SD and then one hour prior to the service at the church. Online condolences may be sent at: www.opsahl-kostelfuneralhome.com.
Phyllis was born in Yankton to Chauncey and Amanda (Wallace) Brewer on January 25, 1929. She graduated from Yankton High School in 1946, with honors. Because of her academic distinction, she was allowed to start teaching without a teaching certificate. So, at just 17 years old, Phyllis began her teaching career in a one-room schoolhouse in Yankton County. She went on to earn a Bachelor of Arts Degree from Yankton College, a Master's Degree from USD and an Administration Degree from USD, all while teaching full time and raising a family. Phyllis eventually landed at the Wakonda School District, where she taught first grade for several decades. Towards the end of her career, she proudly took on the title of Elementary Principal while also teaching. Even after retirement, Phyllis' passion for education never left her. She proctored exams for college students, volunteered her time as a tutor in Yankton, and served as a Senior Buddy through the Gayville-Volin School.
Phyllis met and married Ole Christiansen in 1952. They put down roots near Volin and had two children, Kimberly and Chauncey, both of which she was always so proud of. Phyllis and Ole loved to get dressed up and go dancing at local dance halls. They had one granddaughter, Cayla, whom Phyllis spent a great deal of time with-teaching her about flowers, baking cookies, and reading books. Phyllis was so proud that Cayla followed in her footsteps and also became a teacher.
Phyllis was a lifelong member of the United Church of Christ in both Wakonda and Yankton. She loved serving her church as an organist, Sunday School Teacher, and delegate to regional and state meetings. She loved to stay active and be around people. When she wasn't busy tending to her flower beds at the farm, you could find her singing baritone in Sweet Adelines, attending a local Garden Club or Ladies Aide meeting, traveling, working at a local polling booth, or volunteering at the Lewis & Clark Visitor's Center. She believed in giving back to her community and serving others.
Survivors include her two children, Kimberly Christiansen of Yankton; Chauncey (Carla) Christiansen of Volin; a granddaughter, Cayla (Robert) Graves of Platte; two great-granddaughters, Talli and Tressa Graves; and her dear friend of over 75 years, Neta Thompson of Yankton.