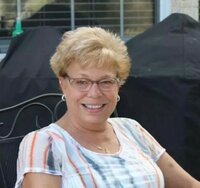 Maureen J. Staniech
STANIECH MAUREEN
Maureen J. Staniech age 61 of Yankton, SD passed away with her son by her side Thursday, May 12, 2022, at Angelhaus West, Yankton, SD. Funeral services will be 11:00 am, Friday, May 20, 2022, at the Opsahl-Kostel Funeral Chapel, Yankton, SD with Rev. Thi Pham officiating. Burial of her cremated remains will take place at later time. Visitations will be 5 to 7 PM, Thursday, May 19, 2022, at the Opsahl-Kostel Funeral Home & Onsite Crematory, Yankton, SD with a rosary at 6:45 pm followed by a Scripture service at 7:00 pm. Visitations will resume one hour prior to the service. Online condolences may be sent to: www.opsahl-kostelfuneralhome.com. https://my.gather.app/remember/maureen-staniech.
Maureen Joan Bossly was born June 19, 1960, to John and Dorothy (Wiseman) Bossly in Aberdeen, SD. She attended Sacred Heart Catholic School and graduated from Roncalli High School in 1978. She attended the University of South Dakota and graduated in 1982 with a degree in Special Education. She taught in the Yankton School District and earned her Master's Degree in Education during that time.
On June 18, 1982, she married Mark Westergaard. They had one son, Nicholas. On December 20, 2008, she married Mike Staniech. They enjoyed a wonderful life together until his passing on May 17, 2017.
Maureen loved the sun and being outside especially near water! She could often be found sitting by her fire pit, on the deck at her mom's lake cabin, soaking up the sun at the beach or cruising on her pontoon boat. She was actively involved with the Elks for many years and enjoyed spending time with friends and family.
She is survived by her son, Nicholas (Laura) Westergaard, one brother, Mark (Deb) Bossly, sister Paula (Keith) Carter, sister Cindi (Doug) Scheid, eight nieces and nephews and 12 great nieces and nephews and one great great-niece.
Maureen was preceded in death by her father, mother and two brothers, James and Jackson.