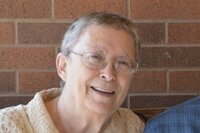 Karen L. Starr
Starr, Karen
Karen L. Starr, age 76 of Yankton, SD passed away on Monday, May 9, 2022, at Avera Sister James Care Center in Yankton. Mass of Christian Burial will be 10:00 AM, Friday, May 13, 2022, at Sacred Heart Catholic Church, Yankton, SD with Rev. Bob Lacey officiating. Burial will be in the Sacred Heart Cemetery, Yankton, SD at a later date. Visitations will be 5 to 9 PM, Thursday, May 12, 2022, at the Opsahl-Kostel Funeral Home & On site Crematory, Yankton, SD with a rosary at 6:45 followed by a Scripture service at 7:00 PM. Visitations will resume one hour prior to the service at the church. Online condolences may be sent at: www.opsahl-kostelfuneralhome.com. Live streaming of Karen's service can be found at: https://my.gather.app/remember/karen-starr.
Karen was born in Brainard, MN in 1945. She was raised in Doland, SD and attended Licensed Practical Nursing School.
On August 26, 1967 she was united in marriage to James D Starr and to this union Pat, Ken, and Tim were born. They were happily married for 51 years. Jim and Karen then operated JD's Broasted Chicken in Canton, SD.
The family returned to Yankton in 1984. Karen continued her nursing career always wanting to work directly with patients. As she aged, she made the decision to work with children by providing in home child care. Many special relationships were forged not only with the children but their families as well.
In her retirement years, Karen enjoyed cooking and baking for family and friends. She was always helping those around her. Karen helped several family and friends with their end-of-life care. She was a true nurse for her entire life.
Karen is survived by her 3 sons: Pat (Emily Kicken) Starr of Sioux Falls, SD, Ken Starr of Bourbonnais, IL and Tim (Bev Hein) Starr of Tea, SD; her grandchildren: Avery Starr, Angela Starr, and Alinia of Sioux Falls, SD, Megan Starr of Bozeman, MT and Mason Starr of Bourbonnais, IL; a special friend, Trevor "Bubba" Hysell and Keiper Hysell; her 2 bothers George Wosika of Bena, MN, Frank Wosika, of Las Vegas, NV and other relatives and friends.
Karen was preceded in death by her husband Jim and parents, Kenneth and Norma (Noble) Wosika.