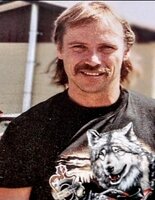 William Brewer
Brewer, William
William M. Brewer age 64 of Irene, SD, passed on Wednesday, April 6 at Pioneer Memorial Hospital with loved ones by his side. The Opsahl-Kostel Funeral Home & Onsite Crematory, Yankton, SD is assisting with the service details. Online condolences may be sent at: www.opsahl-kostelfuneralhome.com.
As the youngest, William was born to Gale Brewer and Ella (Taggart) on February 19, 1958, in Yankton, SD. William "Bill" grew up in the Yankton area and attended school there.
He moved to the Sioux Falls area for a while, returning to the Yankton/Bon Homme area for a job opportunity, residing there for a short time before following a new career path, returning to Sioux Falls. This is where he "settled" and lived until his health decline, at which time he lived with his daughter Billie and her family.
Bill was hard working and a jack of all trades. In his earlier years, he worked at Stockmen's Livestock. Later in life he worked for Hander Heating & Plumbing, worked construction, did carpentry work, and everything in between. He had big ideas and plans, always having a project to do. In the '80's he owned multiple businesses. He also raised exotic birds in the late '80's. Another of those ideas was building his own home from the ground up, which he took great pride in.
Classic trucks, muscle cars, and motorcycles were one of his passions. If he wasn't rebuilding or repairing, he was out tinkering. Some of these through the years: a '68 Pontiac Firebird, '73 Chevy Nova, '76 short box Chevy, '69 Pontiac GTO "The Judge", '69 Chevelle, '79 Pontiac Trans Am, '67 Chevy Camaro, and his Harley Night Train. Bill enjoyed going to motorcycle rallies, antiquing, and going to auctions. He was an avid collector who included wolves, eagles, Harleys, and a vast variety of pets for his girls. Bill liked adventures and the outdoors, whether it was mushroom hunting, gardening, rock hunting, landscaping, or fishing. One of his later hobbies was bird watching.
He is survived by his daughters Billie Jo, Kayla Jo, and Tori Catherine; grandchildren: Rainy, Val, Zoey, & Iszy and Kolten & Sawyer; his brother Larry; nieces and nephews Gail Marie & Kate and Justin & Jeremy.
He is preceded in death by his parents Gale and Ella (Taggart) Brewer, his sister Deborah Jean, paternal and maternal grandparents, special friend & love Diane, and two of his faithful companions Blue & Duke.
There will be a celebration of his life will be held later.
Memorials can be directed to the family, your nearest Heartland Humane Society or Animal Rescue, 3400 SD-50, Yankton, SD 57078, Sioux Falls Humane Society, 3720 E Benson Rd, Sioux Falls, SD 57104, or the family at PO Box 373 Irene, SD 57037.