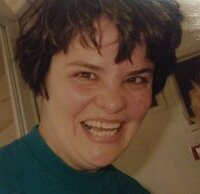 Mary Ellen "Mimi" McMillen
Mary Ellen 'Mimi' McMillen, age 61 of Yankton, SD passed away Sunday, March 20, 2022, at Avera Sister James Care Center, Yankton, SD. Memorial services will be 2:00 PM, Thursday, March 24, 2022, at the Opsahl-Kostel Funeral Chapel, Yankton, SD with Rev. Jacqueline Hickox-Morgan officiating. Visitations will be one hour prior to the service at the funeral home. Online condolences may be sent to: www.opsahl-kostelfuneralhome.com. Live streaming of Mary' service can be found at: https://www.facebook.com/opsahlkostel/live.
Mary Lanning was born in Yankton, South Dakota to James and Mary (Ryan) Lanning on December 29th, 1960, as the youngest of 12. She went to high school at Yankton High School and graduated in 1980. She worked as a dietitian assistant for Sacred Heart Hospital for 17 years until she was blessed with her three kids. She met her amazing husband, Robert McMillen, in 1987 and got married in 1990. Three years later they had their daughter Elizabeth and three years after that they had their twin sons James and Michael. She spent their early years volunteering at the various things her kids were a part of, be it head start or girl scouts.
In March of 2002 she had a brainstem stroke that left her paralyzed from the neck down. From that time until her death she lived at the Avera Sister James care center. Her family would come see her daily to spend time with her and sometimes even watch a movie together. They would also bring her home on the weekends and sometimes she would even spend the night.
Mary loved her family like no one else could. She loved everyone and everyone loved her. When she came into the room the whole room lit up a little more.
Mary is survived by her husband Robert McMillen of Yankton, SD; daughter Elizabeth McMillen of Yankton, SD; her sons James and Michael McMillen of Aberdeen, SD; her brothers, Bud Lanning of Angels Camp, CA, James Lanning of Boise, ID, Larry Lanning of Yankton, SD, and Tom Lanning of Sioux Falls, SD; her sisters, Kathy Lanning of Goodyear AZ, and Phillis Mark of Angels Camp, CA. She was preceded in death by her parents, Mary and James Lanning; brothers John and Danny Lanning; and sisters Carol Lanning and Linda Gubbles.
Memorial donations may be made to Habitat for Humanity of Yankton and Clay County, 218 Capital St. Yankton, SD 57078. The family wishes to extend their gratitude to the Avera Sister James Care Center for their great care for Mary for the past 20 years.