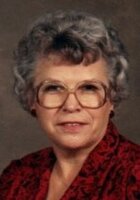 Lillian Mae Merkwan
Merkwan, Lillian
Lillian M. Merkwan, age 95 of Yankton, SD passed away on Saturday, March 12, 2022 at Avera Sister James Care Center in Yankton. A funeral mass will be at 11:00 a.m. on Friday, March 18, 2022 at St. Wenceslaus Catholic Church in Tabor, SD with the Rev. Fr. Mark Lichter as Celebrant. Burial will follow in the parish cemetery. Visitation will be from 10 to 11:00 a.m. on Friday, March 18 at the church. Online condolences may be made at www.opsahl-kostelfuneralhome.com. Arrangements are under the direction of Opsahl-Kostel Memorial Chapel in Tabor.
Lillian was born March 4, 1927 to Emil and Lillian (Hladky) Cwach in rural Yankton, South Dakota. She graduated from Yankton High School in 1944. She married Laddie Merkwan on May 24, 1948 at St. Wenceslaus Catholic Church in Tabor. She was a faithful farmwife and mother to her three children. She was a member of St. Wenceslaus Altar and Rosary Society and Tabor's Czech Heritage Society. You could always count on Lillian for a morning cup of coffee paired with a kolache or cookie. She kept her hands busy crocheting and doing needlework and loved playing Cvick (cards) with family and friends. Lillian and Laddie lived at their Tyndall farm until they moved to Majestic Bluffs in Yankton in 2012. Lillian spent her last years at Avera Sister James in Yankton playing bingo and still enjoying her coffee and a cookie.
Lillian is survived by her three children: Richard (Tonye) Merkwan of Early, IA, Irene (Mark) Mensing of Blue Earth, MN, and John (Kathy) Merkwan of Roanoke, VA; six grandchildren: Karie (Jeremiah Squires, Jr.) Merkwan of Edina, MN, Jaci (Kirk Pritchard) McCoy of Sioux Rapids, IA, Amanda (Scott) Dirkx of Norwalk, IA, Liz (Craig) DeVelder of Vermillion, SD, Chris (Gretchen) Mensing of DeWitt, MI, David (Melissa) Mensing of Spirit Lake, IA; and thirteen great-grandchildren: Raeven Mazion, Zoe and Kamryn McCoy, Lucas, Isaac, and Brynleigh Dirkz, Tyler and Kate DeVelder, Brendan and Jake Mensing, and Abigail, Jackson, and Noah Mensing.
Lillian was preceded in death by her husband, parents, and all ten of her siblings.