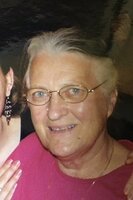 Dorothy I. Kalwat
Dorothy Ida Kalwat, age 85 of Yankton, SD passed away on Wednesday, February 2, 2022 at Avera Sacred Heart Hospital in Yankton. Online condolences may be made at: www.opsahl-kostelfuneralhome.com.
Dorothy was born August 21, 1936, in Yankton, SD to Jacob and Anna Grajkowski. She grew up on a farm in Lesterville, SD until moving to Yankton, SD when she was in middle school and graduated from Yankton High School. Dorothy married Martin Kalwat in 1972 in California where they lived for many years before moving to Oklahoma for about 3 years and then settling back in Yankton, SD in 1990.
Dorothy's passion was teaching the Bible and about the hope of the Paradise. As one of Jehovah's Witnesses, she often visited nursing homes to teach and encourage the older ones.
Dorothy is survived by: four daughters, Chana (William) Lambertz, Tasha Kalwat, Tyla (Dallas) Remington, and Cacela Kalwat; one brother, Melvin (Marion) Grajkowski; one sister, Jayne Schelske; and many nieces, nephews, and grandchildren. Dorothy was preceded in death by her husband and parents and succeeded in death by her sister, Palma Rossman.
A Zoom memorial service will be held Saturday, February 12, 2022 at 3:00pm.