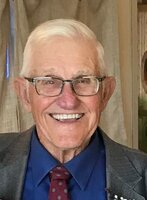 Alan H. Schenkel
SCHENKEL ALAN
Alan H. Schenkel age 91 of Utica, SD passed away unexpectedly Tuesday, February 01, 2022, at his home. Funeral services will be 1:30 PM, Saturday, February 5, 2022, at Martinus Lutheran Church, Utica, SD with Rev. Dean Schroeder officiating. Burial will be in the Garden of Memories, Yankton, SD. Visitations will begin at 5:00 PM, Friday, February 4, 2022, at Martinus Lutheran Church, Utica, SD with a Scripture service at 7:00 PM. Visitations will resume one hour prior to the service at the church. The Opsahl-Kostel Funeral Home & Crematory, Yankton, SD is assisting with the service details. Live streaming of Alan's service can be found at: https://www.facebook.com/opsahlkostel/live. Online condolences may be sent at: www.opsahl-kostelfuneralhome.com.
Alan Harold Schenkel was born to Wilhelm and Sarah (Diede) Schenkel on November 20, 1930 at the family farm in Yankton County, South Dakota. He was baptized on January 11, 1931 at Martinus Lutheran Church, Utica and was confirmed there on May 20, 1945.
On November 12, 1951, Alan was united in marriage to Lillian Capek at Martinus Lutheran Church. Alan was drafted into the U.S. Army in February 1952. He received basic training at Fort Jackson, South Carolina and went on to serve 18 months in Germany. In February 1954, Alan was honorably discharged.
Upon his return home, Alan began farming as well as worked as a self-employed electrician. In 1996, he retired from farming and continued his electric business.
Alan was the neighborhood handyman. He could fix anything. He recycled before recycling was popular. He was a self-taught "engineer." He learned many skills from his father and passed them down to future generations.
Alan fell asleep in Jesus on Tuesday, February 1, 2022 at his home in rural Utica, SD having attained the age of 91 years. He is survived by his wife of 70 years, Lillian Schenkel of Utica; children: Daniel(Linda) of Yankton, David(Julie) of Tyndall, Dale(Mary Beth) of Yankton, Darrell(Rhonda) of Sioux Falls, LeAnn(Nicholas)Kniffen of Tyndall and Lorraine (Pete)Sorenson of Tabor; 20 grandchildren; 27 great-grandchildren; 1 great- great- grandchild; and siblings: Darlene Mutschelknaus and Wilma(Warren)Luke.
He was preceded into Heaven by his parents, son Douglas Schenkel in 1980, daughter-in-law Mary Ann Schenkel in 1995, his brother Vernon Schenkel, Sister-in-law Minnie Schenkel and brother-in-law Filmore Mutschelknaus.
To God be the Glory.