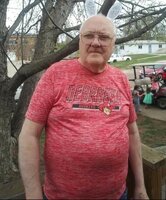 Donald Francis Pike, Sr.
PIKE DONALD
Donald Francis Pike, Sr. age 77 of Santee, NE passed away Monday, January 31, 2022 at Avera Sacred Heart Hospital, Yankton, SD. Funeral services will be 1:00 PM, Saturday, February 5, 2022 at the Oyate Oyanke Community Center, Santee, NE with Rev. Patricia White Horse-Carda officiating. Burial will be in the Santee Catholic Cemetery, Santee, NE. Visitations will begin at 5:00 PM, Wednesday, February 2, 2022 at the Oyate Oyanke Community Center, Santee, NE and will continue until service time on Saturday. The Opsahl-Kostel Funeral Home & Crematory, Yankton, SD is assisting with the service details. Online condolences may be sent at: www.opsahl-kostelfuneralhome.com. Pallbearers will be Brady Pike, Donovan Pike, Donnie Pike III, Harold Jones, Lynn LaPointe, Raymond Centamore, Bob Bickerstaff Jr., Billie Pike "Snits", and Elgin Mace. Honorary Pallbearers will be the Old Housing Crew, Roger Trudell, Bob Bickerstaff Sr., Ryan Bickerstaff, Kalon Strickland Jr., Kalon Strickland Sr. , and Jared Pike.
Don was born December 8, 1945 in Thayer, Missouri to George and Verne (Moreland) Pike. Don Served in the U.S Army as a Medic. On July 9, 1966, Don married the love of his life, Martha and they had 3 sons and 1 daughter. Don and Martha moved to Santee, NE in 1977, where Don started working at the Santee Housing Authority. Don worked at the Santee Housing Authority for 31 years.
Don was the most caring and loving father, grandfather, brother and uncle. Don loved his family with everything he had. His family always came first. He always made sure his family was good. He loved spending the holidays with his family, especially Thanksgiving and Christmas. He will be missed by everyone, especially his dog Thumper, who he treated like one of his kids.
Don is survived by his sons, Donald Pike Jr. (Paula), Melvin Pike, Michael Pike Sr. (Kellie) and daughter Susan Pike, all of Santee, NE; 11 grandchildren and 7 great-grandchildren, 4 sisters, Helen Centamore of Omaha, NE, Betty Branson of Carter Lake, NE, Lorraine Leeper of Omaha, NE and Georgia Santee of Exira, IA; and 1 brother, Rock Pike of Omaha, NE.
Don was preceded in death by his wife, Martha Pike; his parents, George and Verne Pike; 6 brothers, George Jr, Melvin, Richard (Dick), Lloyd, Charles and Tommy; and 1 sister Shirley.