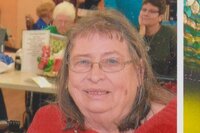 Doris Irene Albrecht
Doris I. Albrecht, age 86 of Yankton, SD passed away early Thursday, December 09, 2021, at Avera Wakonda Heritage Manor in Wakonda, SD. Funeral services will be 11:00 a.m., Tuesday, December 21, 2021, at St. John's Lutheran Church, Yankton, SD with the Rev. Levi Wilms officiating. Burial will follow in the Garden of Memories, Yankton, SD. Visitation will be one hour prior to service time at the church. Arrangements are under the direction of Opsahl-Kostel Funeral Home and Crematory in Yankton. Online condolences may be sent at: www.opsahl-kostelfuneralhome.com.
Doris Irene Schneider was born to Henry J. Schneider and Hattie (Hanson) Schneider on February 15, 1935 at Britton, SD. She was baptized and confirmed at the First English Lutheran Church, and grew up on the farm near Britton. Doris graduated from Britton High School in 1953, and continued her education at a business school in Aberdeen, SD.
Doris cared for her mother who was dealing with cancer in the mid 1950's. She later moved to Yankton and worked in a variety of jobs including Fantle's Department Store.
She married Arnold F. Albrecht on June 20, 1980, and during their time together they enjoyed traveling to the Black Hills and spending the winter near the Texas gulf coast in their camper.
Doris loved to collect figurines, decorative plates and dolls and had them displayed around the house. Several of her favorite treats were Wall Drug donuts, saltwater taffy, and lemon drops.
Doris was a member of St. John's Lutheran Church, and Ernest Bowyer VFW Post 791 Auxiliary, both in Yankton.
She is survived by several nieces, nephews, and cousins.
She was preceded in death by her husband Arnold on January 11, 2016; and by her brother Orville and her mother and father.
Memorials may be directed to St. John's Lutheran Church, "Refreshing in Christ" Capital Drive or VFW Post 791 Auxiliary in Yankton.