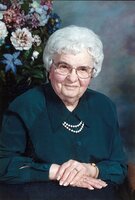 Irene Quast
QUAST, IRENE
Irene Quast, age 104 of Menno, SD passed away Tuesday, November 9, 2021, at the Menno-Olivet Care Center, Menno, SD. Funeral services will be 10:30 AM, Monday, November 15, 2021, at Grace Lutheran Church, Menno, SD with Rev. Theresa Jacobsen officiating. Burial will be in the Menno Cemetery, Menno, SD. Visitations will be one hour prior to the service at the church. Live streaming of Irene's service can be found at: https://www.facebook.com/opsahlkostel/live. The Aisenbrey-Opsahl-Memorial Chapel, Menno SD is assisting with the service details. Online condolences can be made at: www.opsahl-kostelfuneralhome.com.
Irene Jacobina (Sayler) Quast was born on a farm near Scotland, SD on June 6th, 1917, to Emil and Anna (Nusz) Sayler. She was baptized at Ebenezer Reformed Church, and confirmed and married at Salem Reformed Church in Menno, SD. As a child Irene grew up on the farm and attended country school thru the 8th grade.
Irene married Ray Quast in 1940 and together they began farming. She enjoyed the outdoors and the life of a farm wife until retiring and moving to Menno, SD in 1986. Irene then moved into the Menno-Olivet Care Center in 2007 where she had remained for the past fourteen years.
Survivors include three daughters, Marlys Handel of Menno, Phyllis (Marvin) Beuckens and Sylvia (Jerry) Berg of Sioux Falls, SD, Five grandchildren, Twelve Great-Grandchildren and one Great-Great Grandchild.
She was preceded in death by her parents; husband, brother (Milo Sayler) and Son-in Law (Gerald Handel).
Family wishes for memorials to be divided to the Menno-Olivet Care Center, Grace Lutheran Church or designated as you request.