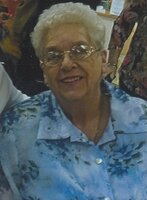 Imogene Tramp
Imogene Frances (Schmidt) Tramp, age 82 of Yankton, SD passed away peacefully early Wednesday, October 20, 2021, at Avera Sacred Heart Hospital, Yankton, SD. Due to family complications with COVID 19 the Mass of Christian Burial will be postponed until 10:30 am, Saturday, November 6, 2021, at St. Boniface Catholic Church, Menominee, NE. Burial will be in the parish cemetery, Menominee, NE. Visitations will be 5 to 7 pm, Friday, November 5, 2021, at St. Boniface Catholic Church, Menominee, NE with a Wake service at 7:00 pm. Visitations will resume one hour prior to the service at the church. The Opsahl-Kostel Funeral Home & Onsite Crematory, Yankton, SD is assisting with the service details. Online condolences may be sent at: www.opsahl-kostelfuneralhome.com.
Pallbearers will be grandsons Josh Allen, Chad Allen, Brett Allen, Drew Allen, Luke LaCroix Robert Tejral, Samuel Tejral, Phillip Tejral, Reilly Tramp and Danny Beavor.
Imogene was born in Menominee, NE to Theodore and Mary (Meyer) Schmidt on March 15, 1939, she was the youngest of six children. She attended school in Menominee through the 8th grade. On October 29, 1957, she married the love of her life Quinten Tramp at St. Boniface church. They settled on the farm near Crofton, NE where she worked on the farm alongside her husband Quinten and wasn't afraid of getting dirty. She took a break from the farm to work a couple years at HSC in the kitchen, but then went back to working on the farm with her husband. September 2016 she and Quinten moved to Yankton, SD. She enjoyed crocheting Afghan blankets for her children and grandchildren. She enjoyed playing bingo and cards, gardening and baking the best rhubarb desserts. She especially enjoyed her grandchildren and great grandchildren. She was a member of St. Boniface Church Ladies Guild, Christian Mother's and T.O.P.S.
Imogene is survived by her husband Quinten of Yankton; 4 children and spouses Geralyn (Mitch) LaCroix of Yankton; Lisa Tejral of Yankton; Amy (Bill) Tejral of Crofton, NE and Quinten (Mary) Tramp of Colorado Springs, CO; 16 Grandchildren and their spouses: Josh (Tiffany) Allen, Chad (Amber) Allen, Brett (Kiley) Allen, Drew (Karolyn) Allen, Luke LaCroix, Emily Tejral, Robert Tejral, Alicia (Harrison Haas) Tejral, Samuel Tejral, Phillip Tejral, Reilly Tramp, Kayla Tramp, Carly (Shawn) McEuen, Lauren (Mitch) Meyer, Shauna (Andy) Smith, Danny Beavor and 23 great-grandchildren. She is also survived by one sister Anna Mae (Donald) Zimmerman; brother/sister in laws: Donna Schmidt, Margaret Schmidt, Charles Tramp, Marilyn Tramp, Wilfred (Donna) Tramp, Norman (Carol) Tramp, Marcelene (Arven) Kathol and many nieces and nephews.
She is preceded in death by her parents Theodore and Mary Schmidt; father/mother-in-law Herman and Alma Tramp, infant great grandson Quinten William Tramp; siblings Virgil Schmidt, Stanley Schmidt, Lugardis and Erwin Bonertz, Darlene and John Lammers; brother/sisters-in-law: Rosemary Jansen, Elmer Jansen, Harold Tramp and Geralda Tramp.