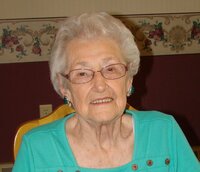 Mabel L. Winningham
Mabel L. Winningham died October 11, 2021, at the Good Samaritan Center, Tyndall, South Dakota. Mabel was 100 years old and so happy that at age 99 she was still living in her apartment at North Point. Funeral services will be 2:00 PM, Friday, October 15, 2021 at the Tyndall Presbyterian Church, Tyndall, SD with Pastor Lorney Van Gerpen officiating. Burial will be in the Tabor Czech Presbyterian Cemetery, rural Tyndall, SD. Visitations will be one hour prior to the service at the church. On line condolences may be sent to: www.opsahl-kostelfuneralhome.com.
Mabel L. Winningham was born May 26, 1921, in Bon Homme County, South Dakota. Her parents were Frank and Emma (Vavruska) Sutera. Mabel grew up on a farm that is located between Tabor and Tyndall. Mabel attended Vlasak County School and graduated from Tyndall High School in 1938. She attended Southern State Teachers College in Springfield South Dakota. After teaching rural school Mabel went to California in 1943 and during World War II, she worked at Douglas Aircraft inspecting metal thickness on airplanes and Firestone Rubber reinforcing gas tanks. While she was in California, she met her future husband Arnold Ward Winningham. Mabel and Ward were married in Muncie Indiana in 1946. Ward and Mabel moved back to Tyndall and Ward attended Trade School in Springfield and Mabel taught school. In 1952 the family moved to California where Mabel worked at Douglas Aircraft metal inspection department. In 1962 Mabel and her family returned to Tyndall and she enrolled in Southern State Teachers College and started pursuing her B.A. teaching degree. Mabel loved teaching and when she retired, she had taught 13 years in Bon Homme County rural schools and 16 years in the Tyndall public school.
Mabel was a member of the Tyndall Presbyterian Church and she enjoyed singing in the church choir. She was also a member of the American Legion Auxiliary, Tyndall Library Board. Mabel also volunteered at the Good Samaritan Center.
Mabel is survived by her sons, Glenn and wife Sheryl of Sioux Falls, South Dakota and Ken and wife Sharon of Denver, Colorado. Step grandchildren Steven and Susan and step great grandchildren, Ariel, Skyla, and Lucas. Brother Dan and wife Helen of Onida, South Dakota. Sisters-in-law Florence Sutera and Shirley Sutera. Mabel is also survived be many nieces and nephews who will miss not being able to visit with her.
Mabel is also survived by special friends, Cal and Vicki Tjeerdsma; their children Ryan and Anne, Sara and Justin and Renee and Dave; and grandchildren Brendan, Grant, Carson, Tegan, Jacoby and Mabel.
Mabel is preceded in death by her parents, husband Arnold Ward on September 8, 1998; brothers, Wilbur, Eugene, Wayne, Jim, and infant Clarence; sisters, Esther, Ruth and Shirley.
In leu of flowers memorials are directed to the Presbyterian Cemetery; c/o Rich Sutera, 223 N. Springfield Street, Tabor, SD 57063.