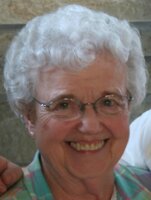 Myrtle Lucille Andersen
Myrtle L. (Swensen) Andersen, longtime Yankton educator, died Saturday (September 04, 2021) at Avera Majestic Bluffs. She was 100 and a resident of Yankton. The Opsahl-Kostel Funeral Home & Crematory, Yankton, SD is assisting with the service details. On line condolences may be shared at: www.opsahl-kostelfuneralhome.com.
Mrs. Andersen received her bachelor's degree from Southern State College and her master's degree in education from the University of South Dakota. She worked as an educator for 45 years including time at Viborg, Mission Hill, Canton, Grove School in Yankton County and twenty-eight years in the Yankton Public School System as teacher, principal and Mathematics Department Chairman.
She was an avid bridge player and enjoyed instructing others in the game. She also took pride in her volunteer work at Avera Hospital and Beadle School. She was recognized for her extensive volunteer work in her selection as 2011 Yankton Citizen of the Year.
Mrs. Andersen was born in Irene, SD, Oct 16th, 1920 to Martin and Christina (Guldhammer Nielsen) Swensen. She was raised on a farm (homesteaded by her father) near Irene, SD. On 14 July 1943, she was married to Andrew Preben Andersen and a few years later they came to live in Yankton where she spent most of her educational career.
Mrs. Andersen is survived by her son, Dr. David Andersen of St. Louis; 3 grandchildren: Dr. Kristen (Andersen) Mennemeier of St. Louis; Kurt Andersen of St. Louis; and Mark Andersen of Seattle, WA; and five great-grandchildren.
Myrtle was preceded in death by her parents (Martin and Christina Swensen), her husband (Andrew P. Andersen ) and 15 siblings:
Christian Peter Swensen; Clarence Burth Swensen; Arthur Leonard Swensen; William Freddie Swensen; Elsie Louise (Swensen) Gibson; Maude Esther (Swensen) Nielson; Walter Herman Swensen; Floyd Henry Swensen; Willmar Hurman Swensen; Esther (Swensen) Jensen; Ethel Madeline (Swensen) Jensen; Margaret Muriel (Swensen) Friederichs; Mary Evelyn (Swensen) Anderson; Alice Lorraine (Swensen) Thomsen and Martin Swensen, Jr..
The family plans a celebration of life with her grandchildren and greatgrandchildren to be held in St. Louis.
In lieu of flowers, the family suggests memorials be made to the donor's choice in Myrtle's memory.