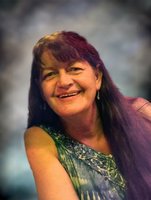 Terry L. Sayler
SAYLER TERRY L
Terry L. Sayler, age 59 of Menno, SD passed away at the Freeman Regional Hospital, Thursday, May 28, 2021 after suffering an apparent heart attack. Memorial services, along with her son's service will be 11:00 AM, Tuesday, June 1, 2021 at Salem Reformed Church, Menno, SD with Rev. Michael Hecht officiating. Burial will be in the Menno Cemetery later. Visitations will be one hour prior to the service at the church. The Aisenbrey-Opsahl-Kostel Memorial Chapel, Menno, SD is assisting with the service details. Live streaming of Terry and Chris's services can be found at: https://www.facebook.com/opsahlkostel/live. Online condolences may be made at www.opsahlkostelfuneralhome.com.
Terry Lynn Sayler was Born to Edsel & Marilyn Petersen on June 1, 1961, in Viborg South Dakota. She grew up on farm near Parker and graduated from Parker High School in 1979. She moved to Menno with her children and started a career in Customer Service. Terry became a diary for so many in the community. She was known for her infectious laughter, her glowing smile and electric personality. Terry was unconditionally positive in all aspects of life. She had an incredibly special way with people and was loved by so many.
Amongst those captivated by Terry Lynn was Fred Sayler. Their bond was undeniable, and they shared many years of love and laughter before they were married on June 27, 2009. Terry enjoyed riding motorcycles, kayaking, gardening, and collecting angels. Most of all Terry loved time with her family. Her children & grandchildren were the light of her life, and she never hesitated to show it.
Terry was a member of the Salem Reformed Church. Those blessed to share her life are her husband, Fred Sayler. Children: Chad (Dandi) Wyldes of Huron, SD; Lacy (Caleb) Borman of Rock Rapids, IA; Ryan Hora of Sioux Falls, SD; Melissa & April Sayler of Olivet, SD; and Scott (Jess) Sayler of Satellite Beach, FL. Grandchildren: Akira, Harley, Dante, Ava, Jaxson, Zachary, Tyus, Isaac, Mela, Kaleb, and Ajay. Brothers: Gary, Scot and Alan. Sisters: Colleen, Peg and Jody; along with many more relatives.
Terry was preceded in death by her parents and eldest son, Christopher Wyldes.
Terry was the most selfless and loving person. She will be missed by the masses.