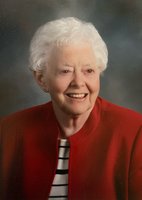 Carol Jean "Corrie" Fountain
Carol Jean Fountain, age 92 of Yankton, SD passed away on Monday, March 15, 2021 at Avera Sacred Heart Hospital in Yankton. Memorial services will be 10:30 a.m. Saturday, April 24, 2021 at Yankton United Church of Christ (Congregational) with the Rev. Jacqueline Hickox-Morgan officiating. Visitation will be 6 to 8:00 p.m. Friday, April 23 at Opsahl-Kostel Funeral Home and Crematory. There will also be visitation for one hour prior to service time at the church on Saturday. Due to COVID-19 concerns, friendsand family are encouraged to participate through live streaming of Carol's services at: https://www.facebook.com/opsahlkostel/live. Those wishing to attend in person are asked to wear a mask and to practice social distancing guidelines. Online condolences may be made at www.opsahlkostelfuneralhome.com. Arrangements are under the direction of Opsahl-Kostel Funeral Home and Crematory in Yankton.
Carol Jean "Corrie" Fountain was born September 22, 1928 to Alice (Hill) and Harry Corrie in Anthon, Iowa. She was very active in school: a cheerleader, student council president, newspaper editor, and forward on the basketball team. She was recognized as an Iowa All-State basketball player as a Junior. She graduated from East High School in Sioux City. She then attended Morningside College where she met her husband, Donald. They married on June 5, 1948 and settled in Sloan, Iowa where they stayed for eleven years. They then moved to Beresford to raise their 4 children and owned a business for over 25 years. Carol was an avid sports fan- she golfed every day in the summer and bowled in the winter. She was active in PTA, United Way, Women's Fellowship chairman and other activities in the church. She was a Girl Scout leader and a member of Ashrama Temple of Daughters of the Nile and a Past Queen. In 2004, Carol moved to Yankton to be closer to family. In Yankton, she was honored to join Chapter K, P.E.O. become a member of the United Church of Christ, the Library Book Club and two bridge clubs. She enjoyed her final years at Walnut Village.
She is survived by her children: Nancy (John) Sternquist, Yankton; Dee (Bill) Waggoner, Renner; Julia Fountain (Mike Lawler, fiancé́), Hampton, VA; Rex (Ronna) Fountain, Lake St. Louis, MO.
Grandchildren: Jill Sternquist (Jason Nelson), Corrie Sternquist, Nathan Waggoner, Joel Waggoner, David Waggoner, Jonmichael Waggoner, Ashleigh Bouselli (Eric), Alyssa Imm (Aaron), Amber Ahrens (Patrick), Alexis Fountain; Great-Grandchildren: Easton and Xavier Nelson, Corrie, Aiden, and Carson Bouselli, Brooks Imm (Born on Carol's 92nd birthday), William, Ella, and Logan Ahrens.
Carol was proceeded in death by husband Donald; her parents; brother Wallace; and sister Doris.
The family requests memorial gifts be given to Chapter K, P.E.O. local scholarship fund or the United Church of Christ Projection Fund.